Tartans of the Clan Maclean
The earliest reference to a tartan occurs in 1471, and is an account by a treasurer to King James III of the purchase of tartan for the use of the King and Queen of Scotland. The origins of the tartan are uncertain, but renewed popularity in the 19th century have revitalized this ancient practice. Many tartans have ancient and modern colors. The simple explination is that ancient dyes were inferior to modern dyes.
At one point in Scottish history, Scotts were prohibited "upon pain of death" from wearing the tartan. Today however, it is common practice among those of Scottish descent. If you are going to wear the tartan, it is only appropriate to wear your own clan or district tartan. The Court of the Lord Lyon has designated the proper way to women to wear a tartan sash. If you are not of Scottish descent, or have no mariatial ties to any clan, you may wear a regional tartan or a generic tartan such as the Flower of Scotland tartan.
MacLean of Duart Dress Tartan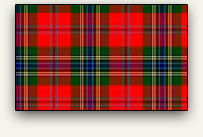 MacLean of Duart tartan is the most common tartan used my members of the Clan MacLean. It is also the basis for the Royal Stuart Tartan. Since kilts are usually only worn on semi-formal to formal occasions, this tartan is the primary tartan used today. A "weathered" or "ancient" version of this tartan is also popular with some, since it uses muted color variations to simulate ancient dyes used by the clan's ancestors.
MacLean of Duart Hunting Tartan
The Hunting tartan of the Clan Maclean is the oldest recorded tartan in Scotland. A discription is included on a charter for lands of Nerrabolsadh on Islay in 1587. It is this, hunting, tartan usually worn for more casual occasions.