Heraldry of the Clan Maclean
Characteristic heraldry belonging to the Clan Maclean, its chiefs, and its chieftains closely resembles that of many other clans of Scotland's Western Highlands and Isles. Per custom and heraldic law, titles and arms are the property of the individual, or armiger, to whom they have been granted. The vast majoity of Macleans armigers were hereditary receipients of arms such as chiefs or chieftains; however there are a few notable individuals received a grant of arms by distinguishing themselves through extraordinary accomplishment.
As hereditary property, an achievment of arms may often go unchanged for several generations especially if the eldest son has inherited his father's arms. Occasionally the achievment of arms will be rematriculated if the the new receipient has personally achieved a level of notoriety that should be reflected in their heraldary.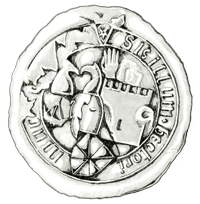 Hector Mór's Seal
Through the past few centuries the
supporters
,
crest
, and other aspects of the
achievment of arms
have varied slightly as they were
rematriculated
for certain Maclean chiefs, the primary charges of the escutcheon have remained steadfast. These charges—a rock, red-hand holding a cross, a lymphad, eagle heads, and a salmon—have been symbols of the Maclean chiefs since before they appeared in Hector Mor's seal in 1546.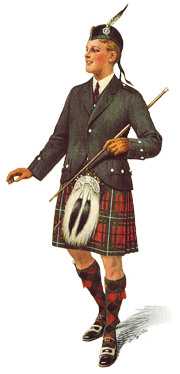 The arms, armoral bearings and banners of the Maclean chiefs and chieftains are their personal property and are exclusively for their personal. Under Scottish heraldic law it is inappropriate and illegale to use anothers arms as your own. Any arms displayed on this site are for educational purposes related the histories of the individuals to whom they belong, and how those histories are woven into the overall history of the Clan Maclean.

Maclean Badge
Rather than mis-using the
Chief's arms
to demonstrate membership and allegiance with thier chief, members of the Clan Maclean may use a heraldic device known simply as the
Clan Maclean's Badge
. This badge is devised by encircling the
crest
from the chief's achievement of arms in a strap and buckle. All members, allies, and supporters of the clan are encouraged to wear, use, and display the Clan Maclean badge proudly.
A subtle and very popular form of heraldry today is the wearing of Clan Maclean's tartans. Tartan is a fabric whose specific pattern is used to identify fellow clansfolk. The Clan Maclean has two tartans— the dress tartan which is red and a hunting (or casual) tartan which is green.