Sir John Maclean
20th Chief, 4th Baronet of Morvern, 16th Laird of Duart,
This article needs additional research, citations, and verification. Please help improve this article by adding citations and references. Below is the material that has been gathered, unsourced material may be challenged and removed.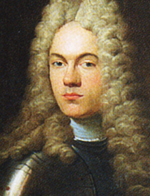 Click To Enlarge
Sir John Maclean, 20th Chief,[e] 4th Baronet of Morvern,[a] and 16th Laird of Duart[e] succeded his father as Chief in 1674.[j] Though born at the crossroads of the Jacobite Uprisings and the hight of the Campbells' assault on the Clan Maclean, Sir John earned the respect of his clan, two monarchies, and his enemies. Though he was the last of the powerful Lairds of Duart, Sir John was fitted in every way to command the respect and love of his clan.[b]
Sir John was a handsome man, tall yet well-proportioned with a ruddy complexion.[a] Having spent years at court, Sir John's polite and courteous behavior along with his graceful manners commanded respect.[a] He was well educated[i] and spoke Gaelic, English, and French fluently.[b] Keenly aware of the importance of education to the future of his clan, Sir John sponsored many of the Clan Maclean's eldest sons at the University of Glasgow.[g]
The character of Sir John MacLean taken as a whole is one to be admired.[a] He proved himself steadfast friend to his allies, an inspiring leader, politically capable, and honourable in his dealings.[b] Throughout history, the Macleans have been known for their sturdy honesty[i] and Sir John was no exception. He was humble[a] and naturally geneorus,[b] and while generally cheerful and affable[b] to all, he was remembered as an affectionate friend.[a]
Both the Ardgour and Pennycross manuscripts record that, Sir John MacLean was in every respect a fine gentleman.[a] Sir Ewen Cameron of Locheill noted in his memoirs that he often did great services by his excellent advice, and he was of a termper so kind and obligeing, that he was fond of every occasion of doeing good to his friends, while he neglected many inviteing opportunitys of serving himself.[q]
This brave and truly honourable chief was evidently not politician enough for the troublsome times in which he lived.[c]
Two noble traits of Sir John's character failed to serve well throughout his life. A sincere and honest man, Sir John gave those he encountered, particularly men of status, the benefit of assuming they were as trustworthy as himself; this left him exposed to deceipt on several occasions.[a] Sir John was unalterably steady to what he believed to be his duty. He believed his duty was to the deposed House of Stuart; though this belief cost him his estates, rank, and force him into exile, Sir John embraced this duty with courage and grace. Adept at court, had Sir John been more flexible in his perception of duty the the Stuarts, he could have restored his fortunes and standing with the Hanoverian monarchy.[a]
Sir John was merely eighteen years of age[a] and aboslutely landless[b] when he first rallied his clan to support the Stuart Cause. His clan loyally followed him from Killiekrankie to Sheriffmuir,[a] where he proved his gallantry on the battlefield. It was noted that Sir John was brave and cool in battle.[b] In the 17th century power struggles were fought at court as furiously as they were on the battlefield. Though Sir John was quite skilled at court he relied more heavily on the long Maclean tradition of leadership on the battlefield when it came to such maters; in that respect he had a difficult time adapting to the emerging political landscape of his times.[a]
Family
The only child of Sir Allan Maclean and Julian née MacLeod of Dunvegan, Sir John was born about 1670.[a]
Sir John married Mary Macpherson, the daughter of Sir Enaeas Macpherson of Sky.[o] Together they had children,[f] one son and five daughters: Louisa, Isabella, Hector, Mary, Ann, and Beatrice.[a] Hector was born in November of 1703 while the family was in in Calais, France.[o] Beatrice, their youngest child, died in Glendaruel at the age of fourteen.[a] Isabella eventually married a MacQuarrie of Ormaig in Ulva, some of her descendants could be still be found there as late as 1840.[a] Unfortunately no record have been preserved concerning the rest their children.[a]
Mary died early in 1907.[h] Their son and the heir to the Chiefship, Hector, was five years old at the time of his mother's death; Sir John placed placed Hector in the safe care of Donald of Coll.[h] Sir John never remarried.[f]
Early Life
- "He may be said to have been 'born to trouble'" [o] - Father Sir Allan Maclean died unexpectedly in 1674[j] - Father also became chief at age 4 [i] - Father was Sir Allan died in 1674 [b] - Succeeded at age 4 [i] - 4 years old when he succeeded his father in 1677. [o] - 4 years old when his father died [b] - 4 years old when he succeeded his father [a] - He was only 10 years of age when it became the property of the crown in 1681 [b] - The last posses or of the the ancient and hospitable halls of Duart Castle [c] - Although Sir John held posession of Duart for some time, he never owned items [b] - two kinsmen were regents till 1686 when Sir John appointed 4 agents for his business [i] - Gardians were Lachlan Malcean of Brolass and Lachlan Maclean of Torloisk, men of profound judgement and determined minds, and gave unbounded satisfaction to the whole clan. [a] - Lachlan of Brolas and Lachlan of Torloisk appointed his tutors [b] - estates under the care of Lachlan Maclean of Brolas and Lachlan Maclean of Torloisk [o] - He was only 10 years of age when it became the property of the crown in 1681 [b] - Fostered by the Earl of Seaforth[j] - Developed a strong friendship with Sir Ewan Cameron of Lochiel [o] - Lochiel espoused the cause of Sir John despite Argyll, his own interests, and the fact that he himself was indebted to Argyll [o] - Lochiel considered Sir John's principle guardian "a person who seem sto have been absolutely unfitt for manageing his affairs att such a juncture." [o] - Lochiel resolved to never abandon the Maclean. [o] - Lochiel was once so incensed by Argyll that he was with great difficulty restrained by his servant from shooting Argyll as he stepped into his coach. [o]
Rebellion Against Argyll
Scottish Privy Council
[Origin of the Rebellion] - In 1634, Sir Allan's grandfather (sir Lachlan, 17th Chief), became a vassal of the Lord of Lorn for the Island of Brolas. Argyll wanted to trump that relationship and tried to compell Lachlan of Brolas (Sir John's tutor) to accept a new charter for his lands. Argyll's charter would have forced Lachlan of Brolas to renounce his allegiance his chief and swear allegiance to Argyll in all things. [b] - Brolas refused, so Argyll trumped up charges and took steps to procecute him and gain letters of fire and sword. [b] - The Macleans, seeing their 8 Sep concessions were of no avail and that their existance as an independent clan was in danger, resolved to withhold Argyll's rents and resist his fresh attacks with the sword. [b] - Immediately after father's death, Archibald (9th Argyll) procured letters of ejection against Duart on the grounds that they refused to give him posession of Duart [b] - Argyll, acting in his capacity of Hereditary Justiciary of the Isles, summoned the Clan Maclean to appear and stand trial for treasonable convocations, garrisoning thier houses and castles. [o] - Argyll also charged them (as the justiciary of the Isles) with treasonable gatherings, keeping garrisoned houses, and making unlawful leagues among themselves [b] - Argyll responded by summoning the leading Macleans at Inverary as the justiciary of the Isles [b] - Sir John's guardians were swayed between the advice of Lochiel and Lord Macdonald. [o] - When they listened to Lochiel, the Macleans stayed onthe defensive against Argyll [o] - When they listened to Macdonald, the Macleans were incited to reprisals and plunder (to which itwas at all times no difficult matter to stimulate HIghlanders) [o] - Maclean communications with the Privy Council (who could have redressed their wrongs), was intercepted by Argyll who increased his cruelty toward theme_key [o] - they refused to appear and were dealt with as fugitives from justices and rebels. [b] - By the time the rents became due there was not a tenant of Sir John MacLean's but resolved at all hazards to treat Argyle's pretended right to them with scorn and in order to strengthen themselves in case coercion was resorted to the guardians formed an alliance with lord MacDonald and other chiefs who promised them one thousand men [a] - knowing they could not trust Argyll, the macleans refused to comply with the summons and were declared rebels and outlaws. Argyll issued a commission of fire and sword against them. [o] - 1 SEP 1675, Argyll received from the Privy Council letters of fire and sword against the Macleans of Duart Kinlochaline, and Ardgour. he also obtained a body of soldiers to assist him. [b] - 6 Nov 1675, Argyll received a commission of fire and sword against john Maclean of Ardgour and Lachlan Maclean of Torloisk [b] - Argyll ordered the Macleans ot appear before him at his courth in Inverary, but they were wise enough to keep away. [b] - Argyll registered a compaint at the Privy Council that they were rebels, and received letters of fire and sword against them. [b] - guardians determined that the Argyll-Lauderdale collusion should be resisted by the sword. [a] - A tradition states that when Argyll's messengers came to discuss the debt, Sir John pushed the boat away as neared the shore with his own hands. [o] [Argyll's 1st Invasion of Mull] - in April of 1675 the Macleans sent out fiery crosses throughout Mull, Morvern, and other places. [b] - on the 20th of April 1675, they appeared in a warlike posture on the lands of Knockmartin [b] - The assembeled 400 men in arms as they expected to be attacked by Argyll's forces. [b] - with the help of lauderdale, Argyll got 500 goverment soldiers to invade mull [a] - shortly afterward, 100 additional men gathred at Gaderly and Glenforsay. [b] - The islanders formed a league of defence against Argyll [o] - The Macleans had not recovered from Inverkeithing, so the people went to the mountains for security. [e] - As the Macleans were not in the position to fight against both Argyll and William of Orange, they removed to the mountains, taking most of their cattle with them. [b] - These preparations were communicated to Argyle by the commander of Duard castle and the earl lost no time in using his influence with the privy council from whom he obtained such assistance as he required with full authority to carry fire and sword into the MacLean district [a] - A traitor named Lachlan Maclean (who he is is unknown) wrote Argyll [b] - Letter dated Coll, May 2, 1675 he told Argyll that all the Macleans were aimed at his life and had sent to Tiree to apprehend him [b] - Letter dated Coll, April 20, 1676 he states he had been the bailie of Tiree until 1675 and that John of Kinlochaline forced him to leave the island with his wife and children, and that his losses were 3,090 pounds. he asked Argyll for relief or compensation for his losses for informing Argyll [b] - Argyll, through Lauderdale, gained a english force of 500 men which joined 800 of Argyll's men and invaded Mull, landing in 3 different places. [e] - Argyll landed in 3 places [b] - Argyll got 500 government men and raised 1800 of his own followers and invaded mull in Septeber of 1674 [b] - Argyll blockaded the Macleans in the Islands almost starving them for want of provisions. [o] - Argyll, took quiet posession of Duart and garrisoned boht Duart and Aros castles. [e] - At last the earl of Argyle was able to take quiet possession of the inheritance of the chief of MacLean. [a] - Duard and Aros castles were taken possession of and garrisoned by the invading army. [a] - Not satisfied with this the soldiers spread themselves over the island committing depredation and offering personal insult and violence to the unresisting inhabitants. [a] - One of the chief officers, lord Neill Campbell, for the sake of pastime was in the habit of leading a party of his followers into the mountains where the poor inhabitants sought shelter; and after plundering them of the necessaries of life employed himself at what he facetiously called "a game of houghing" that is cutting off the hind legs of all the cattle they fell in with and leaving the poor animals to die in that mutilated condition [a] - Argyle made no attempt to restrain his followers in the barbarities performed on man and beast. [a] - Argyll's sodiers spread out over Mull and committed depredations, insults, and violence to the unresisting inhabitants. [e] - Argyll demanded in vein that the clansmen renounce their allegience to their chief and become his vassals. [o] - "Every species of indignity and of plunder was inflicted upon these hapless, but faithful Highlanders in vain." [o] - "a 'monster,' as he is termed, 'bearing the stamp of human appearance, named Sir Neill Campbell" in vain chased the poor inhabitants to the hills. [o] - Argyll's uncle, Lord Neil Campbell of Ardmaddy, took great pleasure in houghing all cattle he could find. [b] - Having the MacLeans at so great a disadvantage he exacted a promise that thenceforth they should pay the rents to his agent left the island leaving the castles above mentioned strongly garrisoned [a] - on the 8th of September in 1674, the Macleans acting under compulsion, promised to pay rents of Duart, Morvern, and Tyree to Argyll's agents untill he claimed the full amount of his inflated debt. [b] - Content his extorted debt claim would not be contested further, the oppressive Argyll returned to Inverary a happy man. [b] - He left a garrison in Duart Castle [b] - Under the authority of the Privy Council, Argyll in return granted them a remission for all past offenses. [b] - Some Campbells entered the house of Maclean of Ardnacross and found the 4-year-old Sir John, stripped him naked and, according to the Ardgour Manuscript, attempted to murder him. [b] [Argyll's 2nd Invasion of Mull] - The Macleans of Kinlochaline and Ardgour joined Brolas immediately, and the Macleans of Torloisk, Lochbuie, and Kingerloch prommised their support as did the Macdonells of Glengarry, Macdonalds of Keppoch, and the Camerons. [b] - 12 Sept 1675, 300 Macleans, Mcdonells of Glengarry, the Macdonalds of Keppoch and Camerons in 14 boats attacked a frigate from Leith laden withprovisions for Argyll's army near Ardnamurchan but were beaten off. [b] - Sir John, yet in his minority, was sent to the Castle of Cairnburg, and afterwards to Kintail where he was placed under the care of the Earl of Seaforth. [e] - When the Campbells were preparing ot invade Mull in 1675, 6-year-old Sir John was sent to Cairnburgh for safety, a few months later he was taken back to Ardnacross. in 1677, Sir John was sentot Brahan Castle accompanied by Allan Maclean of Grulin's eldest son, Lachlan. Both remaind with the Earl of Seaforth untill they went to college [b] - shortly thereafter Argyll set sail for Mull with 2,200 men. [b] - During the month of September 1675 he embarked with a force of two thousand two hundred men but this force never reached the island for a dreadful hurricane which lasted for two days drove back the ships some of which were lost and the rest totally disabled [a] - Argyll's second invasion of Mull was thwarted by a hurricane [o] - Argyll never landed due to a storm [b] - the storm was attributed to a famous witch known as Doideag Mhuileach, or the Mull Doideag, who remebering Sir Allan's kindness to the Straithglass Witches, promised that Argyll would not re-enter Mull so long as she lived. [b] - A rumor went that there was a witch name Muddock who had promised to the MacLeans that so long as she lived the earl of Argyle should not enter Mull and indeed many of the people imputed the rise of that great storm under her paction with the devil [a] - This misfortune and the intelligence he received from Mull that the MacLeans were in great force there caused Argyle to postpone his attempt He took the precaution to guard the coast with five hundred men and three hundred more to protect his lands against the incursions of the MacLeans [a] [Aftermath] - The inhumanities perpetrated upon the defenseless people and the occupation of the halls and demesnes of their chief by one whom they had learned to loathe was galling to the proud race and as might have been expected only waited for a favorable opportunity to execute a severe retaliation upon the intruders [a] - There was substantial plundering in 1675 by botht the Macleans and the Campbells (both ways) [b] - ARgyll obtained from the Privy Council a commission to disarm and bring to obedience to himself the Macleans, Macdonells, Macdonalds, and others assisting them, and those suspected of 'popery' [b] - on april 24th he issued a command to them to deliver to the shefiff depute all their arms and amunition. [b] - in response, they invaded the lands of Colin Campbell fo Inveresrigane and carried off his livestock and valuables [b] - in June they also plundered Glenshire, Brae Lochfine, and other Campbell lands [b] - During the same period Argyll was working gainst all of them at court [a] - between 1675-1677 the Macleans, Macdonalds, and Camerons harrased the Campbells [a] - The earl then proceeded to Edinburgh and sought additional aid from the government but receiving no encouragement he started for London where he expected by the aid of his friend Lauderdale to obtain such assistance as he required [a] - Argyll went to Edinburgh to obtain additional assistance from the Privy Council, but was not met with encouragement so . . . [b] - Argyle went ot London in 1675 to lay his complaint before the King, confident that Lauderdal's influence would obtain everything he wanted. [b] - It wasn't untill 1676 that the Macleans that the Macleans obtained a fair hearing. [e] - Lachlan of Brolas and Lachlan of Torloisk accompanied by Lord Macdonell and Sir Ewen of Lochiel followed Argyll to London [b] - Sir John and his guardians appealed to the privy council. The appeal thus made was prolonged untill 1680 when it was settled by the Scottish Council; the island of Tyrie was given to Argyll in full payment of his claim against the estate of Duart. [o] - in Feb 1676, the King remitted the matter in disupte to three lords ofhte Privy Council fo Scotland for adjudication. [b] - Argyll lodged his complaint and the Macleans gave their answers to the complaints. [b] - Argyll did not desire a settlement, and continued to have the decision put off for several years. [b] - This gave Argyll time to escelate the debt again from 121,000 in 1665 to 200,000 in 1676 [b] - ARgyll forgave Sir Ewen Cameron of Lochiel a 40,000 debt to stop helping the Macleans, and though he agreed, he never acted against the Macleans [b] - Chaill Eoghan a Dhia, ach chaill an t-Iarla chuid airgid (Ewen lost his God, but the Earl lost his money) [b] - John Maitland (Duke of Lauderdale), insisted that all the posessions of the Maclean Chief pass out of the family name. but this was apparently dismissed. [e] - Argyll was given the Isle of Tyree in lieu of all his claims. [e] - Lord MacDonald and other friends accompanied Sir John's guardinas to London and laid the whole mater before the King. [e] - Lord MacDonald and other friends of the MacLeans bearing of Argyle's departure also set out for London and laid the state of the dispute before the king who in February 1676 remitted the matter to three lords of the privy council of Scotland for adjudication to which both parties submitted and for the first time the MacLeans were enabled to bring the matter publicly before the council where the claim of Argyle being heard the guardians Brolass and Torloisk made their reply [a] - but they were not rebels against the King, they were merely rebels against Argyll, "the petty kinglet of Inverary" [b] - in November of 1679, Argyll received commissions for leading campbells from the Privy Council to pursue and apprehend or slay Lanchlan Maclean of Brolas and the other Macleans who refused to appear at court on June 3 1675. [b] - As this document explains the whole matter so fully and as it is of importance to those interested in the history of the family it is here given in full [a] - During the time of the negotiations relating to the settlement of this debt there were instances of some interest which transpired that should not fail to be recorded Archibald Campbell ninth earl of Argyle was anxious that lord MacDonald should not assist the MacLeans in their struggles against his persecutions On September 10 1675 he addressed MacDonald a flattering letter and among other things states he had received a commission of fire and was ready to go about the business and farther adds I am confident you will not make their word good who say that you will assist the outlaws of the MacLaines in opposing his majesty's commission But the MacDonalds did lend assistance During the same month the MacLeans the MacDonalds of Glengarry and the Brae of Loehaber and the Oamerons to the number of three hundred men in fourteen boats assaulted one of Argvle's frigates sent from Leith and becalmed near an old castle in Ardnamurchan After the frigate had received one hundred and four shot in her mainsail she succeeded in beating off her assailants.[a] [Argyll Amps up the preasure] - "The way in which Argyll fulfilled his written promises to the Macleans clearly shows what he was. He [Argyll] did not prosecute them for plundering excursions into his lands, but he caused the Privy Council to grant their bitterest enemies a commission to hound them to death." [b] - Juy 2 1679, Argyll invaded Coll and compelled Donald Maclean of Coll to surrender Breacachadh castle and were forced to deliver up all arms, amunition and become obedient to Argyll [b] - July 30 1679, Argyll also forced the surender of Kinlochaline Castle on condition of being discharged from all criminal processes [b] - 11 August 1679, Argyll made an agreement with the Macleans to exchange prisoners for not prosecutting them [b] - Ardgour's crime was the retribution and plundering macleans who submitted to Argyll [b] [Settlement] - early in 1680, Lachlan of Brolas nad Lachlan of Torloisk brought the mater to the notice of King Charles II a second time. [b] - The mater was considered by the Privy Council in July. [b] - Lauderdale's influence assured the mater "settled in the most advantageous method for Argyll." Both the King and the Duke of York believed him [b] - The conclusion was that Argyll should have the whole of the Duart estate and that 300 pounds be paid to Sir John from Argyll's feu-duties. [b] - king's small step to help Sir John..... - On July 10th 1680, Charles II wrote from Widsor Castle to the Privy Council of Scotland, proposing to purchase so much of Tiree as would make to "the laird of Maclean" 500 pounds a year. [b] - 19 Oct 1681, the King authorized the Privy Council to draw on Argyll 300 pounds for the lair of Maclean. indicating that Argyll withheld it from Sir John [b] - Despite having the Duart estate, Morvern, and Tiree, Argyll continued harrssing the Macleans [b] - Argyll obtained a commission to take Cairnburg on 22 DEC [b] [Poetic Justice] - Argyll imprisoned James, Duke of York, the Lord High Commissioner for interfeering with highland affairs and insisting on having his way in both civil and eclastical matters. The Duke hated covenentors and Argyll was protestant [b] - Argyll was tried on 12 DEC 1681 for high treason and leasing-making and pronounced guilty. [b] * It is ironic that he was convicted of crimes he never committed as he had held the Macleans to debts he had created [b] - Fearing execution, Argyll fled from Edinburgh to London to Holland. [b] - Upon fleeing, a sentence of attainder was pronounced against him and his titles, estates, and life were forfeited and a large reward offered for his head. [b] - "Argyll dealt junuustly with the Macleans, and the Duke of York dealt unjustly with Argyll." [b] - With Argyll's forfeiture, the management of hte Duart estate was left to Lachlan of Brolas and Lachlan of Torloisk. [b] - The Macleans having no enemy were obedient subjects and piad sums due the Government punctually [b] - Charles II died 6 FEB 1685 and was succeeded by his brothr James, the Duke of York. [b] - Argyll and the Duke of Monmouth (an illigitmate son of Charles II) were exiles in Holland. They resolved to invade Britain to overthrow James. [b] - Monmuth was defeated at Sedgemoor and executed [b] - Argyll raised 2,000 men who marched with him to Kilpatrick, but dispersed in fear. [b] - A man named Riddel and 4 others seized Argyll and carried him off as a prisoner to Renfrew. he was immediately sent ot Edinburgh [b] - 30 June1681, Argyll was executed by the maiden, not for his rebellion but for his treason sentence [b] - The macleans were among the forces raised by the Marquis of Atholl to resist Argyll's rebellion and were disbanded on 21 June since Argyll was no longer a threat [b] - The Marquis of Atholl was made Lord-Lieutenant of ARgyll after Argyll fled [b] - The Marquis allowed Campbell's land to be plundered by his retainers [b] - The Macleans took part in the plunder and even besieged, captured and destroyed Carnassary Castle [b] - "During my stay I generally observed the [Macleans on Mull] to be stought, subtle, active, patient of cold and hunger. There appeared in all their actions a certain generous air of freedom and contempt of those trifles luxury and ambition which we so servilely creep after. They bound their appetites by their necessities and their happiness consists not in having much but in coveting little." - William Sacheverell governor of the Isle of Man, 1688 [a]
Coming of Age
- Lachlan of Brolas died in 1686 and Torloisk in 1687 [b] - by 1687 Sir John took on the management of the Duart Estate (he was 15 years old) [o] - Sir John appointed John Macleod of Mishnish, Archibald Maclean of Ardturn, Lachlna Maclean of Calgary, and Allan Maclean his agents or factors [b] - Sir John appointed certain gentlement his agents, or factors, and as was the fassion of the time traveled [o] - Sir John visited London in 1688 and then France [b] - Sir John went to the Court of England first, which was still under James II [o] - Then he went ot France [o] - traveled to england, france, ireland (with James II) [i] - on the death of Torloisk, Sir John took management of Duart [b]
Glorious Revolution
- in 1688 King James II was deposessed by parliament, who invited William of Orange to be King. [e] - James II trusted his affairs in Scotland to be handled by James Graham, Viscount Dundee. [e] - When Graham called the higland chiefs in 1689 to restore the exiled monarch, the Macleans answered. [e] - June 1688 William II was invited to accept rullership of the kingdom [b] - Almost immediately after the accession of James II February l5 1685 he violated the fundamental laws of the constitution and soon after was at war with his parliament [a] - The breach widened until at last in 1688 seven of the leading politicians dispatched an invitation to William Prince of Orange to come and occupy the English throne [a] - Finding himself deserted by the army and other classes James retired to France but the following year came to Ireland with a small force was defeated at the Hoyne July 1 1690 [a] - The affairs of the dethroned monarch were ably upheld by James Graham Viscount Dundee in Scotland who rallied the Highland clans and resisted the government of William and Mary [a]
The Jacobite Uprising of 1689
[Jacobite] - A Villiam or with the Whig party in queen Anne's reign[a] - His great weakness consisted in that supposed duty he thought he owed to a line of monarchs His life is a living monument in attestation of the Biblical injunction Put not your trust in princes Queen Anne was the favorite of her father James II and although it was in her power to restore to him his forfeited estates there is no evidence that she even proposed justice to Sir John [a] - The race of MacLean was ever true to the house of Stuart and thousands of them perished in its support [a] - In return thev were persecuted and neglected [a] - On the other hand the family of Argyle that fomented strife and discord that engaged in rebellion and treason that plotted the overthrow of the reigning dynasty although it met with some severity upon two of its members yet from those sovereigns it had abused it received honors powers and enlarged estates [a] - It presents the anomaly that princes do not reward faithful servants but those who fawn upon them and pander to their desires [a] - As a matter of policy fairness justness and good judgment there was no reason for giving the estates of Sir John MacLean to Archibald Campbell tenth earl of Argyle [a] - It may be a matter of some consolation and gratification that these estates have nearly all slipped from the fingers of this grasping family [a] - That portion of the Morvern estates belonging to Sir John MacLean passed out of the Argyle family in 1819 and in 1845 it was owned by eleven different landlords Many years ago Duard castle and its adjacent lands also passed into other hands The Koss of Mull Kilfinichen parish the islands of Iona and Tiree are still possessed by that family [a] - Dundee's Rising - Sir John inhrited a detrmined fidelity to the Stuart Cause. [o] - period known as the Killing Time [g] - The Highland clans were led by Viscount Dundee in favor of restoring the monarchy of James II [f] - The first hostilite between France and Egnaldn after the Revolution broke out in Ireland. It was James II's intention to incite the Irish and Scots to his cause. [o] - James II determined to, "recover my own dominions with my own subjects, or perish in the attempt." [o] - Sir John accompanied James II when he landed in Ireland on the 12th of March in 1689. [o] - After the Siege of Derry, Sir John returned to Scotland accompanied by Sir Alexander Maclean of Otter. [o] - Then he accompanied James II to Ireland before returning to Britain. [o] - When James sailed from Brest in France and landed on Kinsale in Ireland he was accompanied by Sir John Maclean of Duart and Sir Alexander Maclean of Otter [b] - James commissioned Sir JOhn as a colonel of the Maclean regiment and Hector Maclean of Lochbuie as LtCol [b] - from Ireland, Sir John crossed to Mull [b] - King James landed in Kinsale, Ireland on the 11th of March 1689 [b] - However in Ireland, King James failed to capture Londonderry during the famous seige and his forces were defeated atthe Battle of Boyne on July 11, 1690 [g] - Dundee possessed the confidence of the Highland clans and he looked to them for support in his attempt to restore the exiled monarch [a] - There were others who believed that the clans were not jealous for James but were actuated largely by their hatred toward the house of Argyle [a] - Others have joined in this impeachment of the sincerity of the clans MacAulay goes so far as to say, "It does not appear that a single chief who had not some special cause to dread and detest the house of Argyle obeyed Dundee's summons" [a] - There is indeed strong reason to believe that the chiefs who came would have remained quietly at home if the government had understood the politics of the Highlands [a]
Battle of Knockbreck
- Sir John sent Maclean of Lochbuy as his lieutenant with 300 men to join Dundee [o] - Lochbuy's men encourntered a major of General Mackay's army at Knockbreak in Badenoch; a conflict insued and Mackays men were put to flight. [o] - Sir John sent Hector MacLean of Lochbuie as his LtCol with 300 men. [e] - Durring the march to join the main force, 5 mounted troops attacked the Macleans. [e] - They killed the attacking commander and turned back the mounted assalt [e] - The Macleans lost only 1 ensign and a few privates [e] - The Battlle of Knockbreck was the first blood shed in Scotland for James II [e] - Early in May, Sir John sent Hector Maclean of Lochbuie with 300 men to join Dundee [b] - As the Maclans were marching through Badenoch they were suddenly attacked by 5 troops of horse. [b] - They defeated the attackers and slew their commander [b] - They only lost a few men [b] - They joined Dundee the next day [b] - the skirmsh took place at Knockbreck and was the first fight in Scotland on behalf ov King James [b] - Early in 1689 Dundee set out for the Highlands and around his standard gathered the Camerons of Lochiel, Stewarts of Appin, MacDonalds of Glengarry and Glencoe, the clan Ranald, MacDonalds of Keppoch, and the MacLeans[a] - In obedience to the summons Sir John MacLean immediately sent Hector MacLean of Lochbuy as his lieutenant colonel with three hundred men to join Dundee [a] - On his march Lochbuy was attacked by five troops of horse sent by the enemy to intercept him under command of a major of MacKav's army [a] - When the MacLeans saw the enemy was upon them they threw aside their loose garments and took position upon a ridge called Knockbreck in Badenoch and after a severe conflict [a] - Lochbuy put the horse to flight and killed the commander with the loss on the side of the MacLeans of only one ensign and a few private soldiers [a] - The action happened about daylight and Lochbuy's force was partly concealed by a fog [a] - Dundee alarmed by the furious firing to the northward of him the noise of which was greatly increased by the echo of the mountains and doubtful of the result prepared in anticipation of a general engagement to march to the relief of the Macleans when immediately after Lochbuy himself at the head of his warrior band was seen issuing from among the hills and approaching the camp driving before him a considerable number of prisoners and enriched with the spoil of the vanquished [a] - At the battle of Knockbreck the first blood in Scotland was shed for king James. [a]
Battle of Killiecrankie
- Sir John soon afterward (knockbreck) joined Dundee in personal_options [o] - at Killicrankie, Sir John distinguished himself. [o] - He probably saw the death of Dundee [o] - Dundee pursued the retreating enemy at Killicrankie, but got ahead of his men. When he turned to hasten them to catch up, a musketball hit him inthe armpit. He road off the field and he fainted and fell from his mount. As soon as he was revived, he asked to be raised looking toward the field of battle and asked asked how things went. "Well" was the reply. "Then, I am well" he said and he expired. [o] - William III understood the merits of his brave opponent, Dundee. An express was sent to Edinburgh accounting the action. [o] - William III noted, "Dundee, must e dead, or he would have been here before the express." [o] - When urged to send troops to Scotland, William III answered, "It is needless, the war ended with Dundee's life." [o] - Killiecrankie was jacobit victories [g] - Sir John had only 500 men after the Killiecrankie [g] - As Sir John prepared to join Dundee, he sent Sir Alexander Maclean of Otter to assist MacNeill of Callechilly who was surrounded on the Island of Gigha by English warships. [e] - When Sir John marched to join Dundee at Athol he took an additional 200 men. [e] - Dundee's first and last grand struggle on behalf of James II took place in Athol around Blair Castle [e] - Sir Alexander Maclean was sent with a light party to aid Blair Castle [e] - When Dundee learned that Mackay, who was on his way to attack Blair Castle, stopped at the pass of Killiecrankie, he sent Sir John with 400 men to reconnoitre [e] - on July 27, 1689 the armies of Dundee and Mackay met. Sir John commanded the right flank of Dundee's army [e] - The charge was made about 8 o'clock in the evening and as light as possible. [e] - The highlanders approached low to the ground, as they neared the enemy position, they fired and abandoned their firearms proceeding then with locharber axes and claymores. [e] - The battle was over in minutes [e] - The highlanders carried the day but Dundee fell [e] - The jacobite clans assembled in Locharber on the 18t of May 1689 but dispersed shortly thereafter [b] - They reassembeled inJuly for the purpose of an expedition into Atholl to save Blair CAstle from falling into General Mackay's hands [b] - They met at the lower end of Loch Lochy [b] - They pitched camp there saturday July 21 and left Tueday morning (the 24th) and marched through Glenry over the Drummond Hills and across the Hills of Drumuachter [b] - They arrived in Blair Atholl saturday morning, 27 JULY, the day before the battle [b] - Battle of Killiecrankie was also known as Rin Rory [b] - General Mackay advanced from Dunkeld with 3,000 men and 2 troops of horse. [b] - Mackay led his men through the pass of Killiekrankie and arranged his men on a narrow field beside the Garry. [b] - Dundee had about 2,500 men [b] - Dundee drew up his men about a musket-shot from Mackay's men [b] - Dundees forces were arranged on the higher ground thus from right to left [b] - Macleans under Sir John [b] - 300 Irish under Col Cannon [b] - Macdonalds of Moydart [b] - Macdonells of Glengary and the Grants of Glenmoriston [b] - Small squadron of cavalry under Sir William Wallace [b] - Camerons under Sir Ewen of Lochiel [b] - a battalion under Sir Allan Maclean of Otter [b] - Macdonalds of Sleat, Keppoch and Glencoe [b] - The battle began about half an hour before sunset [b] - The Highlanders while moving downhillreceived 3 successive volleys from Mackay's line [b] - Whe they Dundee's men approached Mackay's line they fired once and fell upon them with ther swords [b] - the battle lasted only a few minutes [b] - The Highlanders gained a magnificent victory [b] - 800 of Dundee's men were slain along with Dundee himself [b] - of Mackay's men, 2,000 were either killed or taken prisoner [b] - Pass of Killicrankie in July of 1689 [f] - Sir John led 500 clansmen [f] - Dundee killed in the battle of Killicrankie [f] - Sir John continued to make preparations to join Dundee at the head of his clan during which time he received intelligence that his friend MacNeill of Callechilly was surrounded in the island of Gigha by some English ships of war He dispatched Sir Alexander MacLean of Otter to his assistance who relieved MacNeill with the loss of but one man [a] - His preparations having been completed Sir John marched to join Dundee leaving castle Duard well garrisoned which was furiously assaulted during his absence by Sir George Rooke and the men of war under his command which without effect withstood the cannonading for several days [a] - Circumstances conspired to make Athol the seat of war and around Blair Castle the first and last grand struggle of Dundee in behalf of James was to be waged [a] - The contingent from Ireland long and anxiously expected proved to be only three hundred ill fed ill armed and ill disciplined men under Colonel Cannon Dundee saw that his sole reliance was on his faithful Highlanders who amounted to but little more than three thousand men five hundred of whom were Mac Leans under Sir John [a] - The continued possession of Blair Castle was a matter of great importance to Dundee and as it was in danger of being assaulted by lord Murray a light party of Highlanders under Sir Alexander MacLean was sent to give it succor [a] - Soon after it was ascertained that MacKay was marching to Blair which made it necessary for Dundee to direct all his strength to that point [a] - While at Blair castle Dundee learned that MacKay's army had taken possession of the pass of Killiecrankie [a] - He immediately dispatched Sir John MacLean with a party of four hundred men to reconnoitre but being informed that the enemy was there in full force he found it necessary to strengthen Sir Alexander with all the force he had with him [a] - Before engaging the enemy he inquired fully into the nature of the ground and from the hill of Shierglas took a distant view of the foe [a] - The two armies did not come together until toward the close of the day July 27 1689 [a] - The army of Dundee about eighteen hundred strong occupied the high grounds about Wizard house MacKay's numbering about thirty five hundred stood upon a lower platform of the same range of hills [a] - The right of Dundee was commanded by Sir John MacLean composed of his clan and those of subordinate chieftains divided into two battalions because confronted by two regiments [a] - On the left was Sir Donald MacDonald's regiment commanded by his son and Sir George Berkley assisted by a battalion under Sir Alexander Mac Lean [a] - The main body was composed of the clans of Lochiel Glengarry and Clanranald with the Irish auxiliaries and a troop of horse commanded by Sir William Wallace [a] - It was about eight o clock when the clans made the charge with all the impetuosity of a Highland onset [a] - For the sake of lightness they were stripped almost to the kilt stooped low and holding their targets before their heads they rushed swiftly upon the enemy who were partially intrenched [a] - When they were near the foe they stopped a moment fired threw away their guns and then flew headlong upon the enemy using their claymores and Lochaber axes [a] - Dundee seemed to be every where [a] - He flew from clan to clan and animated them to action MacKay's army by the sudden onslaught was pierced in every part toward the left of its center [a] - Within seven minutes that wing was shattered and driven off by the MacLeans who chased some of them into the coils of the Pass and others across the river Garry where the greater part were slain [a] - The left of the Highland army was not quite so successful for the enemy after sustaining the fury of the first onset forced the MacDonalds to retreat [a] - The MacLeans were now wholly engrossed in the pursuit and its concomitant attendants [a] - The chief however who seems to have been an uncommonly brave man with a few gentlemen of his clan made a wheel to the left and joining with Sir Ewen Cameron of Lochiel they advanced briskly along the verge of the valley and attacked the Dutch and Hastings's brave regiment in the flank [a] - This movement of the Camerons and MacLeans gave the MacDonalds time to rally and that wing of the enemy now attacked both in front and flank was forced to retire [a] - Few of the enemy who fled first made their escape for those not cut down by the claymores of the MacLeans were waylaid in the pass of Killiekrankie by the Athol men [a] - The army of MacKay was almost annihilated the wrreck consisting of about four hundred reached Stirling the next day [a] - The Highlanders loss was about eight hundred including Dundee their great commander [a] - The dreadful effect of the slaughter made by the Highlanders was made apparent the next day [a] - The enemy lay in heaps almost in the order in which they were posted and so mutilated that the victors gazed upon them with surprise and horror [a] - Some had their skulls cut off above their ears by a backstroke of the claymore and others had their heads divided in halves by one blow [a] - But few Highlanders fell after they drew their swords and a majority of those who were slain fell within a few paces of the enemy [a] - The victory at Killiecrankie aroused the apathetic who hastened to swell the ranks of the victorious army[a] - But the death of Dundee was greater than a defeat [a] - The command now devolved on General Cannon an old inactive and inexperienced man wholly unsuited in almost every respect who led the army from one disaster to another until it was totally ruined[a] - He marched the army toward Perth and then to Aberdeen He had not less than four thousand men and was followed by MacKay who had raised about fifteen hundred dragoons From Aberdeen he marched into Banff and Moray [a] - A regiment of religious enthusiasts known as Cameronians had taken up a position at Dunkeld [a] - Cannon determined to attack the place although he had nothing proper for the reduction of the place [a] - Having spent all their ammunition and finding they could maintain their position no longer the Highlanders withdrew [a] - In this action Hector MacLean of Torrestan of the family of Coll and Hector MacLean son of Kingerloch were slain and Sir Alexander MacLean had his leg broken [a] - Several private soldiers of the name of Mac Lean were also killed and wounded [a]
Battle of Dunkeld
- Dunkeld was jacobit victories [g] - Colonel Cannon succeeded Dundee as commander of the army, but was woefully unfit for the job [e] - On August 21st, 1689 the army was defeated and lost 300 men. [e] - Sir John retired to Mull and Col Cannon with the Irishmen joined Sir John [e] - James II replaced Col Cannon with Major General Buchan who arrived in Scotland during April of 1690. [e] - 1200 additional men rallied to support of MG Buchan, 200 of them were Macleans [e] - On the fall of Dundee Colonel Cannon, who was next in rank, assumed command of the army [b] - He was utterly unfit for his new position [b] - He attacked the Cameronians at Dunkeld on Wednesday 21 AUG 1689 [b] - The fight lasted hours and resulted in a defeat and the loss of 300 men [b] - The Highlanders retired fro Dunkeld to Blair Atholl [b] - On the 24 AUG they dispersed and went to their homes [b] - Col Cannon and his Irishmen went to Mull with Sir John. [b]
Masacre of Glencoe
- Massacre of Glencoe happened [o] - Government fear that they had overstepped in the Massacre of Glencoe made them less agressive [o]
Seige of Duart
- Sir George Rooke, besieged and cannoned Duart for several days [o] - Argyll invaded Mull with 2,500 men [o] - Sir John advised the inhabitants of Mull not to resist (and they fled to the mountains) [o] - Sir John retired to the island of Thernburg and captured several of King William's vessels that were going to supply the government army in Ireland. [o] - Though Sir John left Duart well garrisoned, Sir George Rook, assaulted it furiously for days. Duart withstood the attack easily. [e] - According to the Ardgour MS, Sir George Rooke, one of King William's admirals, attacked Duart in 1689 but was unable to capture it [b]
Battle of Cromdale / Battle of Boyne????
- The Macleans were among the Highlanders surprised and defeated at Cromdle in 1690 [c] - on the morning of May 1, 1690 MG Buchan was surprised by the enemy at Cromdale and defeated. [e] - This defeated made William of Oragne master of Great Britain and Ireland [e] - King James appointed MG Buchan Commander-in-chief of all his forces in Scotland [b] - Col Cannon was made Buchan's next in command [b] - When Buchan arrived in Scotland, only 1,200 men rallied to his standard, 200 were Macleans commanded by Captain Allan Maclean (a close relative of both Sir John and Sir Alexander Maclean of Otter) [b] - Sir Thomas Livingston, head of a strong cavalry and some infantry, surprised GEN Buchan at Cromdale on May 1 1690 [b] - 400 Highlanders were either killed or captured [b] - two months later, at the Battle of Boyne, King James would be defeated, leaving King William master of England, Scotland, and Ireland [b] - After this action Sir John MacLean sent Captain Allan MacLean his cousin and Captain John MacLean brother of Sir Alexander with a detachment to the north under Cannon who with other Highlanders were attacked at Cromdale [a] - Here Cannon and Buchan suffered themselves to be surprised in bed by Sir Thomas Livingston and though at the head of fifteen hundred brave Highlanders were utterly defeated and scattered which occurred May 1 1690 [a] - In this action the detachment under Sir John MacLean's officers stood their ground till surrounded by the enemy when the soldiers threw away their arms and made their escape but Captains Allan and John MacLean indignant at the conduct of their men fought until overwhelmed by numbers and wounded they were taken prisoners [a] - Cannon fled to Mull where he was protected by Sir John MacLean [a] - The repulse sustained at Dunkeld convinced the chieftains of the incapacity of Cannon so they entered into a compact to assemble on the following September day and place not specified each agreeing to bring the following number of men Sir John MacLean 200 Sir Donald MacDonald 200 Sir Ewen Cameron 200 Glengarry 200 Benbecula 200 Sir Alexander Mac Lean 100 Appin 100 Inveray 100 Keppoch 100 Lieut Col MacGregor 100 Calochele 50 Strowan 00 Barra 50 Glencoe 50 MacNaughton 50 Large 50 but in case any of the rebels shall assault or attack any of the above named persons betwixt the date hereof and the said day of rendezvous we do all solemnly promise to assist one another to the utmost of our power as witness these presents signed by us at the castle of Blair the 24th of August 1689 [a] - Seven days before the date of this compact these associates and other friends sent a very characteristic letter to MacKay in answer to a friendly invitation to lay down their arms In this they say We scorn your usurper and the indemnities of his government we will die with our swords in our hands before we fail in our loyalty and sworn allegiance to our sovereign [a]
Surrender of Duart
- Return of the 10th Earl - On the execution of the 9th Earl of Argyll in 1685, Archiblad, his son and heir fled to Holand [b] - He returned with the Prince of Orange in 1688 and was allowed to take posession of all the titles and estates that had belonged to his father [b] - Archibald Campbell tenth earl of Argyle was not slow in taking advantage of the disasters which followed so rapidly after the battle of Killiecrankie In a letter dated October 22 1t5 0 to the tutor of Torloisk he empowers the latter to show to the lairds of Ardgour Lochbuy Kinlochaline and others of the name of MacLean who were on treaty to lay down their arms that they were granted above date to consider it and that he will not receive them under protection unless they deliver them up under oath and surrender their forts in which case he will if need be go to London and procure their remission for life He also instructs John Campbell bailie of Jura and governor of Aros to march with all speed and fortify the old castle of Aros to seize upon the person and goods of all in Mull Coll and Tiree who continued in rebellion Colin Campbell of Bragleine is instructed to receive the house of Lochbuy and garrison it with twenty four men [a] - Notwithstanding this activity on the part of Argyle Sir John MacLean returned home and retained possession of his estates until the former represented him to King William as an enemy to his cause and procured a commission from him to bring the Macheans to obedience which he began to do with fire and sword He came to Mull with twenty five hundred men but Sir John being unprepared for resistance in consequence of the desertion from his cause of Glengarry and Lochiel who had faithfully promised to assist him he did not deem it prudent to offer opposition all friends save his own clan having forsaken him and knowing that although he should get the better of Argylje yet being in arms against the existing government and his wily enemy being in favor his ultimate ruin was inevitable [a] - He therefore having the good of his people at heart advised them to take protection from Argyle while he himself with a number of his armed followers went to the garrison of Cairnburg where he captured several ships belonging to King William one of which was laden with necessaries for the army in Ireland He staid in this fortress until March 1692 when he received an order from King James to capitulate with the government [a] - It appears he surrendered Duard castle and Cairnburg on the 81st of March and was allowed a pass to go before King William unmolested [a] - He invaded Mull with a stong force early in October, 1690 [b] - One account states he had 2,500 men, according to another it was only 1,600 foot and 60 horses [b] - After the peace was signed Sir John returned to Duart untill Argyll received a commission from William III ot reduce the Macleans by fire and sword. [o] - Sir John's siding with Dundee gave the 10th Earl of Aryll an excuse to request a commission of 'fire and sword' against Duart from the King, William of Orange. [f] - Argyll presented Sir John as an enemy of the state. [f] - Argyll landed on Mull with 2500 men. [f] - Sir John took refuge at Cairnburg, leaving Duart in the capable hands of Captain James Maclean, who held Duart [e] - on March 31, 1961, in obediance to a special order from James II, Sir John surrendered Duart and Cairnburg to the government. [e] - It is gratifying to know that the Morvern estates and Duard passed out of the Argyle family in 1819. [i] - In October of 1690, Argyll visited Mull with a force of foot and 60 horse. [e] - In 1690, Colonel Hill (in correspendance with the Laird of Culloden) wrote that Argyll entered Mull with about 1,900 foot and 60 dragoons to put extract from the inhabitants an oath of allegiance to the king and queen. Hill notes that Argyll funded this invasion at his own expense. [j] - Hill also notes that Argyll 'treated the people with great civility after their submission. [j] - In Hills report to the Privy Council, he noted that this "lord of Guile" was vague, self-righteous and very intersted in having his expenses repaid. [j] - The Mull bard, Iain MacAilean (John Maclean) wrote of the submission [j] Take a mesage with you from me to Cairnburgh To the lord of the excellent brave heroes, Although I made a change of master, My honour is none the worse of it. The oaths we took over there, When Argyll and his men were encamped By God's grace did our souls no harm For they were taken against our will. - for the previous 440 years, Duart had been a Maclean posession [e] - The whole affair was seen by the people of Mull and now by modern historians as a Campbell conquest rather than a government exercise. [j] - "The broken towers of duart and of Aros, the ruins of those once proud lords of the soil, attest the sacrifices which they made, and form a melancholy commentary uopon their history." [o] - "Still more striking, from its greater magnitude and more elevated position, is Duart Castle . . . the walls, of formidable thickness, may long bid defiance even to the storms of this region; remaining to mark to future times the barbarous splendor of the ancient Highland chieftains." [o] - "The castle now fated to become only a tradition, but little known, and les cared for, save in the hearts of the Macleans." [e] - "Since that fatal day, March 31, 1691, the castle has almost pased into oblivion and during the last one hundred and fifty years, has been in ruins." [e] - From Sir John, ownership passed to the Earl of Argyll, [e] - Argyll sold it in 1808 to MacQuarrie, [e] - MacQuarrie in turn parted with it to a Campbell of Possil, [e] - Campbell of Possil sold it to A.C. Guthrie in 1865 [e] - on September 11, 1911 it was sold by W. Murray Guthrie to Sir Fitzroy Donald Maclean [e] - Sir John, and a few followers took refuge in Cairnburgh [b] - He seems to have left Duart in the charge of Captain James Maclean, son of Archibald Maclean of Ardturn. [b] - Most Mcleans suredered their arms and swore alegence to King William [b] - 22 OCT, 1690, Argyll wrote the tutor of Torloisk, asking him to inform the lairds of Ardgour, Lochbuie, and Kinlochaline, and others of the name Maclean, that unless they immediately delivered up their arms under oath and surrender their forts, he would not receive them under protection. [b] - About the same time he instructured John Campbell, bailie of Jura and govenor of Aros, to fortify Aros Castle and to seize the persons and goods of all in Mull, Coll, and Tiree who continued in rebellion. [b] - Argyll also instructed Colin Campbell of Braeglen to take possession of Moy Castle. [b] - In the spring of 1691, the Scottish Jacobites received formal permission from the exiled King James to enter into negotiations with the Government for surrendering to it. [b] - Having obtained this permission, they appied and obtained a cessation of hostilities until October 1. [b] - On March 31 1691, Sir John surrendered Cairnburgh and Duart castle to the Government. [b] - After Dudees Uprising in 1688, it was handed over to Argyll [b]
Surrender of Cairnburgh
- When Sir John surrendered Duart he went to Cairnburgh and sent a ship to bring the Macleans from Coll to Cairnburgh for safety [g] - That ship had to deal with an approaching storm [g] - that ship was fired upon by english ships guarding the passage to Cairnburgh, and punctured the hull. [g] - that ship retreated around the the Treshnish Islands and broke apart on the shore of STaffa [g] - over the next two years, the small garrison at Cairnburgh held out against eh foces of King William. In March 1692, Sir John Maclean agreed to surrender Cairnburgh in return for safe passaage to London and from there to join King James's court in exile in France. [g] - His agreemnet included safe return to their homes for all those with him. [g] - One conditiono fSir Johns agreement was that Rev. Maclean would be permitted to journey to the island of Arran [g] - He had been offerd the position of Pastor for the Prsbyterina Church on the island of Arran. [g] - On March 31 1691, Sir John surrendered Cairnburgh and Duart castle to the Government. [b]
[ Damage Control? Recovery? ]
Favor At Court
- On the 20th of April he received an order from the chancellor of Scotland which permitted him and his two servants to travel from the place of his residence to any place in England or Flanders that he might throw himself upon his majesty's mercy [a] - On the 27th of August, the Government issued a proclamation procising an indemnity to all who had been in arms and who should take the oath of allegiance to the government before January 1, 1692. [b] - On April 26 1691, Sir John received an order from John, Earl of Tweeddale, Chancellor of Scotland, permitting him and his two servants to travel from the place of his residence to any place in England or Flnaders to throw himself upon the Kings mercy. [b] - Sir John proceeded to London and was graciously received by King William, who desired Sir John to accompny him to his next campaign onthe continent and Sir John promised to do the best he could for him on his return. [b] - King William began the practice of pensioning the clan chiefs after he had reduced them to obedience. Queen Anne continud the practice. [b] - Each chief was given about 360 pounds; the government spent about 4,000 pounds annually on chiefs' pensions [b] - Queen Anne bestowed a pension of 500 pounds a year upon him for being falsely arested for the remainder of his life [o] - Sir John divided his time between the Highlands and London where he visited his friend Lochiel at Achnacarry Castle. [o] - The following letter was fround by Lady Maclean (FDM's wife) in an ancient book in Mellville Castle Library, Fifeshire: [e] "Sir John Maclean of Dowart to David Earl of Leven, Intimating His Own Surrendr at Dowart Castle and Protesting His Loyalty. Dowart Castle, 26 March 1708 My Lord, Upon the receipt of your lordship's orders, signified to me by Captain Were in this letter, I immediately in obedience to them repaired hither, and putt myself under custodie. My Lord I shall never be wanting in any testimonie I am capable to give of my deuty to hte queen, yet I can not forbeare regreting my misfortunie in being debarred the opportunity of showeing actively my zeale for her Magesty's service. Whatever follies I have been guilty of I never was capable of a treacherous or base action, and besides th deuty I owe the quen, I have all the ties of gratituted that can bind a man of honour. If her Majestie has any objections to tyre the fidelity of her subjects, I pray God they may be as reddie to sacrifice there lives for her interst as I am, and that those who wold unjustlie give sinistrous impressiones of me, as perhapes they are more capable to serve her, may be so reddie to spill there blood for her service as I would be. I have given instructions to all those of my family with whom I have interest to testifie there zeale, if occasion offers, for her Majestie's service, and I can asureyour lordship you may depnd on them in there mean capacitie, and for me, my lord, all her Majestie's commands shall be cheerfullie obey'd. I am, my lord, your lordship's most obedient and most faithful servant, Macleane" [e] - Sir John was granted safe passage to London to plead his cae before the King who offered him command of a regiment, which he declined. [f] - After returning to Scotland to settle his private affairs, he left for exile in France. [f] - Sir John became a favorite at the Court of William III and Mary, especially with Queen Mary who was partial to her Northern subjects. [o] - From the Memoirs of Lochiel . . . Sir John was "the only person of his party that went ot Court, which no doubt contributed much to his being so particularly observed by the Queen, who received him most gracioously, honored him frequently with her conversation, and said many kind and obliging things to him. Sir John on his part acquitted hmself with so much politeness and adress, that her Majesty soon began to esteem him. He took the proper occasions to inform her of the misfortunes of his family, and aftfully insinuated that he and his predecessors had drawn them all upon themselves by the services they had rendered to her grandfather, father, and uncle. She answered, that the antiquity and merit of his family were no stranges to her ears; and that, though she had taken a resolution never to interpose betwixt her husband, yet, she wouldl sitinguish him so as to recommend his services to his Majesty by a letter under her own hand; and that she doubted not but that it would have some influence since it was the first favour of that nature which she had ever demnded." [o] - Sir John appears to have decliend the commission offered to him by the government. [o] - Although he received James II's permission to reconcile himself with the government, he did not choose to bear arms for it. [o] - Sir John also earned the confidence of William III [o] - William "not only honoured him with is countenance, but told Argyle that he must part with Sir John's estate, and that he himself would be the purchaser." [o]
Exile in France
- Sir John went back to Edinburgh to put matters in order before leaving the continent. [b] - While in Edinburgh, Johstone, the Secretary of State for Scotland, treated Sir John very unkindly andthreatened to throw him into prison. [b] - Sir John hastened back to London, but found the King had gone over to the continent. [b] - Sir John followed the king with the intention of joining him [b] - When he landed onthe continent, Sir John heard that the King had lost the battle of Steinkirk on 3 AUG 1692 [b] - Sir John was led to believe that there would be a counter-revolution in Britain shortly and that King James would be restored [b] - In his blind attachment to the Stewarts, Sir John joined King James at St. Germains instead of joining King William. [b] - This foolish step ruined his prospects. Had he joined WIlliam, he might have regained Duart [b] - went to the Jacobit court at St Germains [h] - Due to a conflict in the stories he was told, Sir John believed that James II was to be restored to the throne and attached himself to James II exiled court in France [f] - Sir John remained in France untill 1707, when Queen Anne accended to the Throne [f]
Return to Britain
- William died on March 8, 1702 and was succeeded by Anne, second daughter of King James. [b] - Shortly after her assession to the throne, an indemnity was granted to all who had followed her father to France. [b] - Sir John returned to London early in 1704 [b] - Sir John returned from France in 1703, in a little boat and landed in Folkstone in Kent. [p] - His wife had delivered a child but eleven days before. [p] - Upon the accession of Anne, sir John took advantagea of the general indemnity offered to those who had gone abroad with James II. Unfortunately his wife's illness kept them in Paris, and they missed the deadline specified in the indemnity [o] - Though he had missed the deadline, Sir John tried to return home anyway, trusting the queen's favorable disposition to the Jacobites [o] - Lived much of the time in London [i] - Queen Ann granted a general amnesty to supporters of James II. [f] - Sir John remaind in London for most of his later life with only brief trips to Scotland. [f] - Upon queen Anne's accession to the throne March 8 1702 there was an indemning offer to those who had gone abroad with king James Sir John availed himself of this opportunity to return to Britain but on his way his wife was taken ill at Calais where she gave birth to a son This retarded his progress so that the day prefixed in the indemnity elapsed before he came to England yet trusting to the queen's clemency he embarked as soon as his family could bear the sea [a]
The Queensburry Plot
- Sir John was interrogated by the Earl of Nottingham [p] - On the 24th of March 1703 the Lords came to a firm resolution "That Sir John Maclean having made an ingenuous confeffion to the Lords committees, her majefty fhould be addreffed to give him as full and compleat a pardon, as may confift with the fafety of her majefty and the people, and to provide for his fubfiftence." and Sir JOhn was discharged from the Tower of London [p] - He was arrested when he arived in London and committed to the Tower. [o] - He was arrested because the Queensbury plot had agitated the public and embarrased the counsels of state. [o] - Sir John had no part in the obscure transaction of the Queensbury plot. [o] - In September 1703, Lord Lovat informed the Duke of Queensberry that the Duke of Atholl, the Duke of Hamilton, the Earl of Cromarty and others were engaged in a plot to dethrone Queen Anne and place her brother James, son and heir of James II on the throne. [b] - Sir John was immediately arrested on suspicion of being concerned in the plot. [b] - no proof against him was produced and he was set at liberty in a short time. [b] - The probability is that there was really no such plot. [b] - Lord Lovat was not incapable of inventing and spreading a false story. [b] - Sir John received from Queen Anne a pension of 500 pounds a year, which he enjoyed during her reing. [b] - Sir John resided in London but occasionally visited the Highlands. [b] - Sir John was arrested upon returning to London and sent to the Tower of London untill his trial. [f] - Sir John was acquitted and gratned a 500 pound pension for life which he accepted with gratitute. [f] - On his arrival in London he was arrested and sent to the Tower and soon after brought to trial before the privy council for taking part in the celebrated Queensberry plot but was acquitted On his liberation the queen gave him a pension of 500 sterling per annum which he enjoyed during the remainder of his life the greater part of which he spent in London and occasionally was seen in the Highlands [a]
The Jacobite Uprising of 1715
- referred to as The Fifteen - After Queen Anne's death, remaining Jacobite supporters were persecuted by the government, chief among them were Lochiel and Sir John. [o] - The Governor of Fort William attempted to arrest Sir Ewan and Sir John at Achnacarry Castle, but they escaped. [o] - durring the night of their flight, Sir John caught a severe cold [o] - On March 1, 1707, Scotland and England were united under one legislatiure. [b] - In March of 1708, James, son of James II made an abortive attempt to enter Scotland with 12 battalions of French soldiers to incite an insurresection in his favor. [b] - On August 1, 1714, Queen Anne died and was succeeded by the Elector of Hanover, George I of Britain. [b] - In January 1715, the Parliment was dissolved and writs issued for an election. [b] - When Parliment met on the 17th of March, the Whigs who had been out of office during the later part of Queen Anne's reigh, had a large majority on their side. Power shifted to the Tories. [b] - At the time of Queen Anne's death, Sir John was at Achnacarry in Lochaber [b] - When the govenor of Fort William received news of Queen Anne's death, he kept the news to himself and sent invitations to Sir John, John Cameron of Lochiel, and other Jacobites to dine with him. [b] - Lachlane Maclean of Gurlin happened to notice that the govenor's residence was surrounded by soldiers. [b] - Lachlan Maclean of Grulin spoke to Sir John in Gaelic and made the state of maters known to Sir John [b] - The govenor tried to arrest both Sir John and Lochiel but they got out of the house and succeeded in making their escape [b] - In January of 1715, Sir John was among the chiefs and chieftains who signed a loyal adress to King George. [b] - The address was written by Lord Grange, a brother of the Earl of Mar, but evidently composed by the Earl of Mar [b] - When the Earl of Mar presented the address to King George, the king gruffly and foolishly refused to receive it. [b] - Mar departed immediately for the Highlands to stir up a rebellion against the new government, having no furhter use for Kinge George [b] - 26 AUG 1715, the Jacobites held a meeting at Braemar to consider what steps to take. [b] - After an eloquent speech from Mar, they agreed to return to their homes and raise their forces and assemble at Aboyne on the 3rd of Sept [b] - On the 6th of September they unfurled the royal banner at Castletown and proclamed young James King by the title of James VII of Scotland and James III of England, Ireland, and their dependencies. [b] - During hte nightof September 8, 100 Jacobites attempted to capture Edinburgh Castle. [b] - A woman in the group alerted the government and the garrsion was prepared to meet hthem [b] - the attempt failed [b] - Only 4 jacobites, including Captain Maclean, were captured [b] - The Earl of Mar acted as Commander-in Chief of the Jacobites and made his heqdqarters in Perth [b] - He knew nothing of military matters and lacked the ability to make the right use of the military skills of others [b] - He was not only unfit to command an army, but utterly unfit to direct and control a large body of men in any capacity. [b] - He could intrigue, tell plausible stories, and make speeches; but he could really do nothing else. [b] - John Campbell, 2nd Duke of Argyll, who had promoted the Act of Union, was a MG andCommander-in-chief of royal forces in Scotland in 1715. His headquarters were in Stirling [b] - in November 1715 Sir John raised a regiment of 800 Macleans to fight under the Earl of Mar for the Jacobite cause and restoration of James III [f] - The opposing armies were under the command of hte Earl of ARgyll [f] - On the death of queen Anne the English parliament called George elector of Hanover to the throne He was narrow and bigoted To him Britain to the last was a foreign country for which he had no love and of the language feelings and thought of which he was profoundly ignorant His affections remained with Hanover He made no attempt to conciliate the factions who he thought were opposed to him but violently turned his back upon them and threw himself into the arms of the whigs who alone shared his favor and who were not slow to extend their interests and connections If he hiid been wise and prudent he might have avoided some of the calamities which followed There was a general disposition to acquiesce peaceably in the selection of him for a sovereign The leading Highland chiefs addressed to him a letter in which they expressed their readiness to serve him This was signed by Sir John MacLean MacDonald of Glengarry Cameron of Lochiel MacDonald of Keppoch Sir Donald MacDonald MacIntosh of MacIntosh MacKenzie of Fraserdale MacLeod of Contulick Grant of Glenmoriston Chisholm of Comer and MacPherson of Cluny [a] - The conduct of George elector of Hanover excited the most violent discontent throughout the kingdom and the populace raised tumults in different parts of the kingdom In the month of January 171 5 he issued an extraordinary proclamation calling a new parliament In the midst of these disorders James brother of queen Anne and son of James II but better known as the Chevalier de St George proclaimed his right to the throne from which he had been excluded and assumed the title of James III [a] - The whole tendency of the MacLeans at this time was to remain quiet During the month of December 1714 Sir John MacLean was at the house of Auchinbreck On the 27th of December Campbell of Glendaruel came to Mull and called a meeting of all the MacLeans save Lochbuy at Grulin To them Glendaruel presented an address to the king which he desired them to sign which they refused until he prevailed upon some of them by urging that Sir John had no way of living but by favor of the king who might be prevailed upon to continue his pension At a meeting held January 1715 at Kilmichell there was present Sir John MacLean Auchinbreck Lochnell MacLachlan MacDougall and all other gentlemen of Kintyre it was decided to send an address to the king On January 18 1715 James Campbell sheriff deputy of Argyleshirc writes to John Camphell duke of Argyle that he had signed a warrant to search Sir John MacLean and Glendaruel On the next day he writes to the same that Lochhuy had just come from Mull iind stated that when there he heard of no address to the Chevalier but had seen the address of the clans to king George which had several sheets of subscribers [a] - John Erskine the eleventh earl of Mar was dismissed from the office of secretary of state for Scotland by the king on his succession Even before he had seen him he had conceived a great dislike for Mar although the latter did all in his power to ingratiate himself into the sovereign's favor He was abruptly and unceremoniously dismissed because he was a tory The studied insult which he continued to receive from the king drove him into re hellion He proceeded to the Highlands and placed himself at the head of the Jacobites as the followers of James III were called On the 6th of September 1715 the earl of Mar assembled at Aboyne the noblemen chiefs of clans gentlemen and others with such followers as could be brought together and proclaimed James king of Great Britain The insurrection both in England and Scotland began to grow in popularity and would have been a success if a strong military man had been at its head Nearly all the principal northern chiefs were drawn into the movement Sir John MacLean raised a regiment of his own name in Mull which numbered eight hundred men Both the MacLeans and Camerons of Lochiel were late in arriving at the theater of war owing to many obstructions placed in their way by the Argyle Campbells They broke through by going up Glenmore and on their way assisted by some MacDonalds they made an assault upon Fort William They carried sword in hand two of the outworks in each of which were a lieutenant sergeant and about twenty five men but were obliged to abandon the enterprise for want of cannon and proceeded toward Inverary The MacLeans joined the main body of Mar's army at Achterarder some days before the battle of Sheriffmuir At Achterarder during the night of November 10th the whole clan Fraser amounting to four hundred men deserted the Highland army which was followed by two hundred of the earl of Hunt ly's followers The army thus diminished marched off their ground in the following order The master of Stair with the Fife shire squadron and two squadrons of Huntly's cavalry formed the advance of the whole The west clans then followed being first the MacDonalds under their different chiefs of Clanranald Glengary Sir Donald MacDonald Keppoch and Glencoe The next were Breadalbane's men with five regiments consisting of the following clans the MacLeans under Sir John MacLean their chief the Camerons under Lochiel the Stewarts commanded by Appin and those who remained of Huntly's followers from Strathdon and Glenlivat under Gordon of Glen bucket This chosen body of Highlanders were in high spirits and so confident of success that they boasted that their division of Mar's army only would be more than enough to deal with the duke of Argyle and all the force he commanded [a] - The rest of the army commanded by Mar in person followed the advanced division The army numbered about eight thousand men and was confronted by the duke of Argyle with about thirty five hundred veteran troops These two armies came together on Sunday November 13 1715 at a place called Sheriffmuir an elevated and uneven waste skirted on the west by the high road leading from Stirling to Perth Mar marshaled his army into two lines the center of the first line being composed of ten battalions of foot consisting of four thousand men commanded by the captain of Clanranald Sir John MacLean the laird of Glenbucket Brigadier Ogilvie and the two brothers of MacDonald of Sleat all of whom were under the direction of General Gordon On the right of this line were placed two of the Marquis of Huntly's squadron of horse and the Stirling squadron The left wing was composed of the Perthshire squadron The center of the second line consisted of eight battalions of foot composed of divisions from Seaforth's Huntly's Panmure's and Tullibardine's followers Two squadrons of horse formed the right and one squadron the left wing Both armies marched to the crest of the hill and when they were brought face to face some confusion occurred and the clans under General Gordon were thrown to the right of Mar's line which was hastily formed and as already noted consisted of the western clans MacDonalds MacLeans and the followers of Breadalhane During a moment of hesitation old Captain Livingstone rode up a veteran soldier who had served in king James army before the revolution and with several oaths called to General Gordon who commanded the right wing instantly to attack The general hesitated but the chiefs and clans caught the enthusiasm of the moment A gentleman by the name of MacLean who lived to a great age thus described the attack of his own tribe and there can be no doubt the general onset was made under similar circumstances When his clan was drawn up in deep order the best born bravest and best armed of the warriors in front Sir John MacLean placed himself at their head and said with a loud voice Gentlemen this is a day we have long wished to see Yonder stands Mac Calium M6r for king George Here stands MacLean for king James God bless MacLean and King James Charge gentlemen The clan then muttered a brief prayer fixed the bonnet firm on the head stripped off their plaids which then comprehended the philabeg also and rushed on the enemy firing their fusees irregularly then dropping them and drawing their swords and uniting in one wild yell when they mingled among the bayonets The duke's left wing being so violently assaulted by the Highland right was completely routed and the fugitives tied with all speed to Stirling carrying the news that Argyle was totally defeated Argyle succeeded in driving Mrr's left back a distance of two miles but the right and center returning from pursuit struck Argyle's right wing in the rear From this difficulty Arpvle succeeded in extricating himself then retired to Dunblane and from there Stirling About five hundred men were slain on either side The victory was with the Highlanders but Mar's military talents were not equal to the occasion [a]
Ambush at Fort William
- It will thus be seen that Sir John MacLean and some other chieftains were not allowed to be loyal to the new ruler [a] - An arrest was attempted by the governor of Fort William and now he is harassed by the duke of Argyle although the latter was in possession of all his estates [a] - For all this persecution they had no other ground than that of suspicion [a] - It is no wonder that Sir John's face should be turned to the Chevalier whom there is no doubt he believed was the rightful sovereign [a] - If there be any shadow whatever for the doctrine of the divine right of kings then James III should have been proclaimed king of Great Britain [a] - There was no justice in the act of his exclusion that is to people believing in a monarchy In a republic all doctrines of a monarchy are simply abhorrent [a] - At the time of the death of queen Anne August 1714 Sir John was at Achnacarry castle in Inverlochy with some other gentlemen [a] - The governor of Fort William had received accounts of the death of the queen but kept it a secret [a] - Sir John invited the governor and officers to dine with him and during the meal they appeared very happy [a] - Lachlan MacLean of Grulin on going out discovered the house surrounded with soldiers under arms and returning spoke to Sir John in Gaelic who with the company arose from the table [a] - The governor attempted to take both Sir John and Lochiel prisoners but they succeed in passing the guard and making good their escape [a]
Attack on Fort William
- 17 SEP 1715 Highlanders consisting of Macleans, Macdonalds of Moydart, and Camerons attacked Fort William [b] - they succeeded in taking two of the outworks and making prisoners of the 26 men who defendeded them [b] - Owing to the want of cannon they were unable to caputre the for itslef [b]
Battle of Sherifmuir
- The Macleans were prominant in the Battle of Sheriffmuir [c] - In October Sir John raised 300 men in Mull, Coll, Tiree and Morvern and was joined by [Maclean of] Ardgour with 100 men. [b] - On Thursday, 10 NOV 1715, Mar led his forces from Perto toward Stirling. [b] - On Friday, 11 NOV 1715, the Macleans joined him [b] - On the morning of sunday, 13 Nov 1715, the armies met at Sheriffmuir [b] - Mar had 8,400 men and arranged his army in two lines drawn up thus [b] - FIRSE LINE COMMANDED BY GENERAL GORDON [b] - A squadron of horse on the extreem right under the Master of Sinclair, son of Sinclair of Hermandston in Haddingtonshire [b] - 2 squadrons of horse under the Marquis of Huntly [b] - the Macdonalds of Maydart [b] - The macdonells of Glengarry [b] - The Macdonalds of Sleat [b] - The Mackinnons [b] - The Macdonalds of Glencoe [b] - The Campbellso of Breadalbane [b] - The Macleans [b] - The Camerons [b] - The Stewarts of Appin [b] - the men of Strathdon and Glenlivet under Gordon of Glenbucket [b] - The Perthshire squardron of horse [b] - SECOND LINE COMMMANDED BY GENERAL HAMILTON AND MAR HIMSELF [b] - 2 squadrons of horse under the Earlo f Marischal [b] - The Mackenzies [b] - 2 battalions of Huntlys men [b] - The Earl of Panmure's followers [b] - Teh Marquis of Tullibardine's men [b] - Lord Drummond's men [b] - The Robertsons of Struan [b] - The Angus squarron of horse undder the EArl of Strathmore [b] - RESERVE [b] - 400 horse [b] - The Duke of Argyll had 2,300 foot and 1,200 cavalry [b] - Argyll's first line consited of [b] - Evan's dragoons [b] - The Scots Greys [b] - a sQuadron of the Earl of Stair's dragoons [b] - 1,800 foot [b] - 1 squadron of General Carpenters dragoons [b] - Ker's dragoons [b] - 2nd squadron of Stair's dragoons [b] - Argyll's second line consisted of [b] - 2 battalions of foot [b] - 2 squadrons of of dragoons (one on each wing) [b] - Argyll commanded the right wing [b] - General Wightman commanded the center [b] - Generla Mitham commanded the left wing [b] - The battle began inthe afternoon [b] - It is said that Sir John addressed his clan as follows: "Gentlemen, this is a day we have long wished to see. Yonder stand Maccalen Mor for King George; here stand maclean for King James. God bless Maclean and King James. Charge, gentlemen." [b] - The Macleans, Macdonalds of Moydart, Macdonells of Glengarry, and Macldnalds of Sleat, and the Campbells of Breadalbane acted with great bravery and routed Argylls left wing in 8 minutes. [b] - The Earl Marischal and lord Drummond pursude the fugitives toward Dunblane. [b] - Argyll defeated Mar's right wing, but met stout opposition [b] - The highlanders who had just defeated Argyll's right wing, marched across the field of batle and drew upon high ground of Stony Hill of Kippendavie. [b] - The Master of Stair and Marquis of Atholl, through dissatisfaction with the Earl of Mar, took no part inthe battle. [b] - The Macgregors and Macphersons watched from a safe distance but did not strike a blow [b] - The Macdonalds of Keppoch also kept out of the fight. [b] - Mar retired to Ardoch, having lost 60 men to death and few wounded, but the total was probably 400 killed and wounded [b] - Argyll retired to Dunblane, having lost 290 men to death and 187 to wounds [b] - Argyll took 82 prisoners [b] - Only 6 macleans fell [b] - Captain Allan Maclean of Marvern and 5 privates [b] - Donald Maclen, Sir Johns LTCOL, of Brolas was wounded [b] - After the Battle of Preston King George I treated the prisoners "with mean and savage vindictivness." [b] - 700 of the men taken prisoner at Preston (the majority of whom were highlanders) were by "the King's mercy" transported to the West Indies and sold as slaves. [b] - George I even deprived the Earl of Nottingham, Lord Alysford, Lord Finch, and Lord Guernsey of their offices because they were too mercifully inclined toward the rebels. [b] - Even the Duke of Argyll, who had crushed the insurrection in Scotland was punished--deprived of command of the army in Scotland because was too humane toard his countrymen. He was unwilling to butcher them and sell them into slavery [b] - About 40 persons were deprived of their estates for the rebellion, the estates were sold to the public via trustees. [b] - A decisive battle was fought at Sherrifmuir with 800 Macleans charging behind their Chief [f] - Casualties were about equal and both Argyll and Mar claimed victory [f] - Because Mar's army disbanded shortly afterward, the battle was claimed for Argyll [f] - In a council of war held some time after the battle of Sheriffmuir Mar drew up an instrument in which it was agreed that the subscribers should continue in arms and accept of no conditions except under the royal authority During the discussion which followed after the presentation of the bond thje master of Stair demanded to know what persons were allowed to vote as constituting the majority of the gentlemen in arms "Sir John MacLean haughtily answered that unless some such power of selection were lodged in the commander in chief all his regiment of eight hundred men must be admitted to vote since every MacLean was a gentleman." Mar endeavored to soothe those who were disaffected and endeavored to press on the dissentients the dishonor of deserting the king The Highlanders at this time were confronted by ten thousand well disciplined troops while their own army had been weakened by desertions The chiefs who still remained keenly felt their position They complained that they had been induced to enter the field by promises of troops arms ammunition and a general of military talent The council of war broke up without coming to any resolution The Highlanders remained true to the cause long after the Lowlanders had become dejected and dispirited The remnants of the army were marched to Aberdeen and there disbanded in February 1716 [a] - When the Chevalier de St George and Mar abandoned the faithful Highlanders Sir John MacLean was offered accommodation in the Chevalier's ship but refused it He parted with his men at Keith and went to Gordon castle [a] - The night of his escape from the governor of Fort William at Achnacarry castle Sir John caught a severe cold which from frequent exposure developed in consumption and at Perth he became very ill [a] - At Gordon castle this brave but unfortunate man breathed his last on the 12th of March 1716 in the forty fifth year of his age [a] - He was the last of the powerful lords of Duard [a] - He was buried in the church of Raffin in the shire of Banff in the burial place of the Gordons of Buckie [a]
The End of an Era
- Sir John took refuge in Carnburgh, one of the Treshnish isles, where a party of Macleans during the civil wars had held out for sometime against Cromwell's forces [c] - Sir John joined the Earl of Mar for the Battle of Sherriff Muir, still ill from his cold which had turned to consumption. [o] - Sir John declined the Chevalier's offer to join him on his ship bound for France, and went ot Gordon Castle instead. [o] - Sir John died on the 12th of March in 1716 at Gordon Castle. [o] - sick in Perth during Sheriffmuir. [h] - Died at Buckie durring the withdrawl of troops after Sheriffmuir [h] - Died at the Gordon castle 12 March 1716, age 45 [i] - Sir John was burried in the church of Raffin in Bamffshire, in the family vault of the Gordons of Buckie. [o] - "Those who knew Sir John Maclean intimately, considered him a man of straightforward integrity; they deemed him above dissimulation, and they have placed his name among those who despised every worldly advantage for the sake of principle, and who loved hte cause which he had espoused for its own sake." [o] - last powerful lord of Duart [i] - His life was a monument of the injunction, "Put not your trust in Princes." [i] - The next 5 chiefs would be exiles from their homeland [e] - Sir John caught a cold the night he escaped from Fort William and never recovered [b] - After the battle of Sheriffmuir, he became unwell at Perth. [b] - He accompanied his men as far as Keith where he bade them farewell and retired to Gordon Castle (near Fochabers, Elginshire) [b] - He died of consumption on March 12, 1716 in the 46th year of age [b] - He was burried in the church of Raffin in Banffshire in the burial-place of the Gordons of Buckie [b] - Sir John was offered passage to France, but he refused knowing if he left Scotland again he would likeli never return [f] - Sir John died from consumption shortly after the battle of Sherrifmuir at Gorden Castle, Perth on the 12th of March in 1716. [f] - with Sir John's death, an era of 450 years had come to an end. [f] - Sir John would be the last of the powerful and influential chiefs in the truest sense of the worlds. [f] - No longer would the Macleans be asked to lend their support to the Stuart Cause or any other cause [f] - They were no longer masters of Duart and the Highland clans were being disarmed [f] - For the next 2 centuries, the chiefs would be exiles, born abroad. [f] - Lament - Cumha Sir Iain Mhic Ghilleathain Dhuairt, or Lament for Sir John Maclean of Duart [d] Mairead nighean Lachlain wrote : Fhrois gach abhall a h-ubhlan, Dh' fhalbh gach blath agus ur-ros 'S tha ar coill' air a rusgadh de 'h-ailleachd. Every apple trea has dropped its apples, Every blossom and fresh rose has gone, And our wood is stripped of its beauty.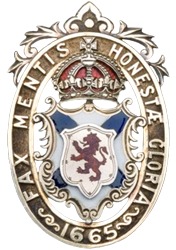 [the Memoirs of Lochiel]

He was of a person and disposition more turned for the court and the camp, than for the business of a private life. There was a natural vivacity and politeness in his manner, which he afterwards much improved by a courtly education; and, as hes person was well-made and graceful, so he took care to sett it off by all the ornaments and luxury of dress. He was of a sweet temper, and good-natured. His witt lively and sparkeling, and his humour pleasant and facetious. He loved books and acquired the languages with great facility, whereby he cultivated and enriched his understanding with all manner of learning, but especially the belles lettres; add to this, a natural elegancy of expression, and ane inexhaustible fncy, which, on all occasions, furnished him with such a copious variety of matter, as rendered his conversation allways new and entertaining. But with all these shining qualities, the natural indolences of his temper, and ane immoderate love of pleasure, made him unsuitable to the circumstances of his family. No persons talked of affairs, private or publick, with a better grace, or more to the purpose, but he could not prevail with himself to beatt the least trouble in the execution. He seemed to know everything, and from the smallest hint so penetrated into the circumstances of other peoples business that he often did great services by his excellent advice; and he was of a temper so kind and obligeing, the he was fond of every occasion or doeing good to his friends, whie he negelected many inviting opportunities of serving himself.[o]

[Records of the Scottish Privy Council]
from the Records of the Scottish Privy Council[a]
Answer of the MacLeans to the Complaint given in by the Earl of Argyle against Them to the Lords of his Majesty's Privy Council A.D. 1670
The earl of Argyle having convened the defenders before your lordships ol his majesty's privy council to answer to his complaints which he 1ms founded upon so many laws and acts of Parliament importing the pains and punishments of treason capital punishments and several other punishments and having subsumed against them the contravention of these laws by the committing of crimes and deeds mentioned in the complaint and conquested in the specialities thereof to a voluminous and great length concluding that to the treasonable and capital crimes it ought to be found and declared that they have been actors or art and part therein in high and manifest contempt of liis majesty's authority and that thereby they have tent and omitted the benefit anil indulgence contained in the commission granted to the earl of Seaforth and thro the contravention thereof deemed to have incurred the certification therein contained and tnat they also ought to be discerned to repossess the earl of Argyle in the estate of Dow art and to deliver up the garrison of Cairnburg and to refund the rents of the estates unwarrantably intromited with by them and to pay the earl's particular damages and losses extending to the sum of 200,000 and that they ought to be exemplarily punished for the crimes libelled.
Before the defenders can make particular defenses to the present ground of this complaint which for the most part is made up of very heinous and atrocious crimes whereof they are not guilty they humbly conceive that its tit for them to give your lordships a true and just account of the grounds and occasionsof the great and many troubles and difficulties wherein the marquis and this earl now complainer have involved them and driven them to merely to prove the hazard of their lives ruin of their fortunes and extinction of their name and family
It is not unknown to your lordships that the lairds of MacLean with their friends and followers have constantly adhered to his majesty's interest and service in the worst of times and particularly lining those most unhappy troubles in this kingdom from which by the mercy of Almighty God we were delivered by his majesty's happy restoration That family did appear in his majesty's service having joined with the late marquis of Montrose as soon as he appeared in the field with his majesty's commission and constantly continued with him exposing their lives and fortunes in that service until his majesty's father of blessed memory having recalled the commission he gave the marquis of Montrose they returned home and lurked for the preservation of their lives and could not peaceably enjoy their fortunes for the late marquis of A rgyle finding that from the beginning of the troubles he was not able to prevail with them to join with him egainst his majesty's interest and authority he took occasion to bring in forces to the island of Mull a few days after the Mac Leans under the marquis of Montrose's command bad forth the battle of Kilsyth and taking advantage of their absence burnt wasted and destroyed their possessions After recalling Montrose's commission he prevailed with the authority for the time to impute a garrison in the house of Dowart under the oppression ami slavery of which garrison they continued until his majesty came to Scotland in the year 10 57 at which time Sir Hector MacLean did with his friends and followers come to his majesty to Stirling to the number of 800 well armed men of his name and appointed upon his and their own proper charges Having gone to Inver keithing by his majesty's command to oppose the landing of the English usurper Sir Hector and most part of the principal gentlemen of his name with all of his followers were killed upon the place valiantly lighting in defense of his majesty and the liberty of the kingdom so that the whole S M only 40 ever returned After his death Sir Allan his brother being a child succeeded but how soon any persons appeared for his majesty's interest the friends of that family were ever ready as formerly and the late chancellor the earl of Glencairn having his majesty's commission the tutor of MacLean with his name and followers were the first that joined with him and the earl of Middle ton thereafter until that attempt for the freedom of his kingdom from the usurper proved unsuccessful whereupon they were forced to scatter and retire And because his name and family were known to be so forward and jealous in his majesty's service the English to repress them did again garrison the home of Dowart and keeping them in constant trouble and bondage until his majesty's happy restitution Which garrison as is notoriously known was planted there by the advice of the late marquis ot Argvle who came to Mull and assisted to settle them in the house and island All which they have represented to your lordships notsfrom vanity and ostentation their greatest sufferings and mean services being but the cost of their duty and thereof they would have been silent if treason rebellion and open opposition to his majesty's authority were not loudly charged upon them in this complaint But immediate ground of the troubles and difficulties of this family is that in the year 1642 the late marquis considering the aversion Sir Lachlan MacLean had to the courses of those times and how ready he would be on every occasion to appear for his majesty's interest the said marquis upon pretence of some debts wherein he was cautious for him and upon pretence of few duties payable by MacLean to the bishop of the Isles for uplifting whereof the marquis hud commission and upon pretence of some by gone feu duties owing to bis majesty and some other pretences of ammunition contribution money taxation and the like did by his power at the time necessitate Sir Lachlan to give him a bond for 14,000 pounds Scots and to subscribe on account 10,000 pounds bearing an obligement to pay that sum and annual rents But thereafter Sir Lachlan having joined Montrose and his lands being burnt and destroyed for his opposition to the public for the time he was neither in condition to quarrel the said debts nor to pay the same and having died under these distresses Sir Hector Ins son being very young and unacquainted with his father's affairs he in the year Ii i jO did pay to the marquis 10,000 pounds and notwithstanding gave him a bond of corroboration for OO lOO pounds in which the foresaid 30.000 pounds and annual rents were accumulated But Sir Hector having been killed in his majesty's service as is above mentioned albeit Sir Allan was minor and that the friends of that family were altogether ruined in their fortunes by their constant adherence to his majesty's interest yet from the year I6o to 1059 they paid of this debt to the late marquis of Argvle and to the lady Ann his daughter who was assigned thereto 22,000 pounds Notwithstanding whereof in anno 1659 the marquis pursued Sir Allan who was then a minor and when neither he nor his friends in regard of the troubles durst safely appear to defend themselves and upon Sir Allan's announcing to be heir to Sir Hector he intended adjudication and for not reproduction of the process obtained a decreet of adjudication of MacLean's estate for 8 i 000 pounds without any regard or reduction of the sums of money that had betm paid After his majesty's happy restoration MacLean and bis tutor did apply to the Parliament complaining of the great losses which they had by the late marquis who burnt and destroyed their lands for concurring in his majesty's service and procured garrisons to be put in the house of Dowart and adduced witnesses who distinctly and clearly proved that they were demnified in great and considerable sums But the marquis forfeiture having in the meantime proceeded his majesty's advocate for the time slopped the sentence and constitution of the debt by authority of parliament and which they intended for no other use but to compensate decreet of adjudication accumulated upon the family This adjudication having fallen under the forfeiture his majesty was pleased to give the forfeiture to the earl of Argyle and his father's creditors in this manner viz in so far as extended to 15,000 pounds of yearly rent in favor of the eirl himself in the first place for paying proper woodsetters in the next place and for payment of the debts wherein the earl was debtor propio nomine and as cautioer for his father in the third place and for security of the lady marchioness her life rent and of the provisions of his brother the lord Neill and of his sisters in the fourth place and thereafter the remainder of the estate was appointed to belong to and be proportionally divided among creditors of the late marquis and commission was directed for taking trial of the rental and said settlement of the estate accoiding to his majesty's gift By the report of which commission there remained nothing to be divided among the creditors but this debt of MacLean's which is stated to amount to 121,000 at Martinmas lo6o and another debt of the captain of Clanranal's 20,000 and by the report of the commissioners discern these sums to belong to the creditors.
The earl declared himself willing to denude himself of any right he had thereto ii favor of the creditors But notwithstanding of this report appointing the sum to belong to the creditors the earl to expede an infeflment in his own name as donatory to the forfeiture upon the first adjudication and intended actions of removing and mails hixI duties against MacLean's tenants obtained decreet of removing in absence and in the meantime Sir Allan died leaving a child of four years of age to succeed him Upon this decreet the earl having charged and having immediately raised letters of ejection upon pretence that some servants of the deceased MacLean were in the house castle of Dowart ami would not give him admittance to that house he convened a great many of Mac Lean's friends before his own justice court for treasonable convocation in arms and keeping garrisoned houses and making of leagues among themselves charging them to find caution to underlie the law upon six days and to find landed men cautioners Whereupon the parties cited knowing that the earl or his deputies were to be the judges in that affair and that it would be difficult for I hem to find caution especially landed men the time being so short resolved to send to Edinburgh to advocate the pursuit and to suspend the charge for finding caution but thereafter being denounced in the earl's court for not finding caution and an act of adjournal made declaring them fugitives for not compearance they durst not adventure to pass thro the country of Argyle the earl having issued forth by his own authority in his own name as judiciary of the Isles under a signet bearing his coat of arms letters for denouncing them rebels to his majesty for not appearance and upon production of his procedure procured letters of inter communing and commission of fire and sword from your lordships of the council and thereupon levied considerable forces invaded the island and having commission from your lordships to indemnify the defenders he did accordingly indemnify them and received possession of the house of Dowart Hut in regard the tutor of MacLean would not renounce any interest of kindness and blood he had to the family of MacLean and would not accept a charter of the lands of Urolass containing extraordinary clauses of service and marriage he thereupon of new convenes the tutor and several others of the name of MacLean in his justice court proceeding against them upon the former crimes for which they were indemnified and upon new pretensions of sorning and spulzeing his tenants he declares them fugitives denouncing as aforesaid obtains letters of inter communing and a new commission of fire and sword And it being impossible for the defenders cither to come to Edinburgh or to send but necessarily they behaved to pass thro the Earl of Argyle s bounds which safely they could not do and whereof they had a recent instance in the violent seizing of the person they had sent with information and instructions to their agents and lawyers at Edinburgh so that being debarred from access to the ordinary and legal remedies and being surprised with this new commission of fire and sword after the earl had attained possession of both the houses of Dowart Morvern and other parts of Mac Lean's estate and having grounds to suspect that the earl intended the extirpation of their name and race altogether they resolved to continue without doing wrong but to defend their lives until they might have an opportunity to send some persons by a compass about to represent their sad and distressed condition to the lords of his majesty's privy council Which accordingly they did and whereof the lords of his majesty's privy council were graciously pleased so far to take notice that they granted them suspension of the letters of denunciation and inter communing and assigned them a day to compear commanding them to disperse and lay down their arms which they instantly did upon your lordships command and do now appear before your lordship And having really represented the rise and progress of their troubles and which have been occasioned by this pretense of debts alleged due to the late marquis in anno 164 2 and which if duly considered will be found unjust at the beginning and albeit it had been just yet in great part satisfied and as to which the earl needed not have interposed himself betwixt MacLean and the creditors with whom he would have transacted and have satisfied them of what in law and reason should have been found due and as to any other debts which the carl has lately acquired they were ever ready and willing to have satisfied the same by payment of the true sums which the earl paid for acquiring the same which being promised the defenders answer to this complaint is as follows:
complaint First As to the pretended convocations and being in arms in August and September 1074 and the garrisoning of the house of Dowart they deny that they were other ways in arms than they usually are when they meet about their chiefs affairs to treat about the letting of his lands or other settlements of his estate and as for all the diligenee done against them in the earl's court they do repent their reasons of suspension thereof principal eiked contained in and eiked to the letter of suspension raised before your lordships.
Secondly Albeit they had been guilty of such enormous crimes as were then libelled as they were not yet they ought to be assodzed for all deeds all edged committed by them preceding the 8th of September 1674 in regard by warrant from his majesty's council the earl did indemnify them whereupon he attained to the possession of the house of Dowart and the possession of the lands of Morvern.
Thirdly As to the convocation bands and leagues continuing together in arms they the defenders humbly represent to your lordships the bad grounds before mentioned viz that they were unwarrantably and in a most summary manner proceeded against by the earl in his own court of justiciary and although he had been judge competent to those high crimes and points of treason as he was not and no judge in the realm can be judge competent thereto but the highest court of justiciary or the court of parliament yet the letters were most inorderly executed in regard the same being letters of treason whereby they were charged to find caution to underlie the law for the points of high treason libelled and to compear to answer for the same under the pain of treason such letter by the undoubted law and practice of the kingdom and particularly by the 125 Act January 6th are appointed to be executed by the ordinary heralds and pursuivants bearing coats of arms otherwise the executions are declared null and void and of no avail But so it is that the said letters were not so executed and consequently they were unwarrantably and unjustly proceeded against and declared fugitives for crimes of treason and denounced rebels and traitors upon which ground they have suspension and thereupon the hail procedure an 1 all that has followed thereupon should be declared null and void.
Fourthly As the procedure was most unorderly and unwarrantably so it is a new and great surprise to the defenders In regard to the earl having attained to the peaceable possession of the house of Dowart and of the lands of Morvern and within a very few months thereafter having of uew again convened them before his justice court for their actings and some other new pretences without acquainting them wheiein they had lone any wrong they could not but think that the earl by this procedur and his preparations to invade them did intend their utter extirpation which they acknowledge made them stay together until they had opportunity to acquaint the council which they could not otherwise do but by sending their petition inclosed to a privy councillor to have the p ime presented not daring to adventure their persons through the earl's country until the letters of inter communing and lire and sword were suspended and immediately after intimation ol the council's commands they dispersed And whereas it is pretended that since the council's orders they continue a garrison at Cairnburg they humbly represent to your lordships that some of the earl's lollowera after his first attempt upon Mull were so cruel and inhuman to the laird of Mac Lean who is but an infant of six or seven years of age that they stripped him naked and took all his clothes from him whereupon his triends when the earl intended to come to Mull in September last being apprehensive that they might proceed to cruelty against the infant they sent him to a little rock in the sea which has no fortifications but the natural inaccessibleness of the place and sent two or three persons with him to preserve his person against injuries and within some few weeks after the council's orders he came forth thereof and now stays in Airdnancross And to the other pretended deed of riots and oppression alleged committed by them since the intimation of the council's order they altogether deny them but on the contrary they have lived in a peaceable manner sustaining great and very considerable losses by the depreciations committed upon them by the earl's friends and followers for which they have a complaint raised and depending before your lordships And not to trouble your lordships with any further answer to this large complaint and specialities whereof they humbly pray your lordships to consider this affair not only with regard to their service and sufferings for his majesty and his father of Messed memory but also with regard to the manifold and great oppressions committed upon them by the late marquis which are so notorious to all their neighbors and a great many of the kingdom as nothing is more evident and also to consider what advantage has been taken against them upon account of this pretended debt of 30,000 pounds in the year 1642 whereof the grounds were unjust and for which the deceased marquis never paid 10,000 pounds upon Macl ean's account as can be clearly instructed if your lordships shall think fit to inquire therein and which is now amassed up notwithstanding the sums which have been paid as is above related to 200 00 pounds and whereupon these advantages of legal diligence were taken against the lairds of MacLean in the time of their great distress and sufferings for his majesty and in regard the laird of MacLean and his friends can not but think it hard to be driven from their ancient possessions by such severe advantages of law upon grounds which materially are unjust and that without vanity they might have expected from his majesty upon the forfeiture of the late marquis a discharge of these pretences and that upon material and just grounds in regard of the devastations which were committed upon them by him and the forces under his command or by his procurement upon no other account but their constant adherence to his majesty's service and interest and though the minority of Sir Allan Mac Lean at the time of his majesty's restoration and negligence of his friends did occasion that they did not apply to his majesty and that the benefit of this sum was discerned to belong to the creditors and in regard that notwithstanding thereof the earl has not only interposed between them and the creditors and so frustrated them of the opportunity of the easy transactions which they might have made with the creditors albeit the debt had been just but also has so severely followed his legal diligence that upon pretence of this debt he intended to root out their very name and memory and seeing it could not be expected that the earl who has tasted so bountifully of his majesty's liberality and whereof the defenders do not envy him would have been so rigid towards those who to his own knowledge have so eminently suffered for his majesty by driving them to these necessities either to lose all their fortunes and die in misery to run to causes for their self preservation which they abhor and detest desiring nothing so much as to live in obedience to his majesty's laws that therefore your lordships would seriously enquire into this affair from the original thereof and to take such courses thereanent toward the settling and composing thereof as to your lordships in justice shall seem fit and expedient.[a]