Chartered in 1390, Duart Castle is the ancestral seat of the Clan Maclean. As the oldest inhabited castle on the Isle of Mull, it has undergone several additions and renovations over the more than 600 years it has stood guard over the Sound of Mull.
Due to the shifting political landscape and dynamic of the Western Highlands, particularly durring the early part of the reighn of James I, Duart Castle was forfeited to the Campbells but re-acquired in the 19th century. Despite this lapse, for more than half a millenia, Duart Castle has been home to the Clan Maclean.
Today, Duart Castle is the home of Sir Lachlan Maclean, Bt, CVO, DL, 28th Chief of the Clan Maclean. Although the Duart Castle is his private residence, he has taken great care to preserve it, and make it accessable to the Clan it once protected and represents. Duart Castle is the site of the bi-annual international gathering of the Clan Maclean.
The poem, "The Flag on Duard Castle" from Lachlan MacLean's "Native Steam-Boat Companion." Of it he says it was "composed by a clergyman adjacent, a few years ago, on the occasion of the flag of Duart Castle being given to the wind, to summon the surrounding peasantry to chapel or church on Sabbath."

THE FLAG ON DUARD CASTLE
On the But 'tis war tower of Duart the banner is spread,
But 'tis not the banner of terror and dread;
It sends the far summons, o'er mountain and heath,
But 'tis not the summons to onset and death.

It calls not the chieftain to gird on his might.
To send forth the war-cry, and arm for the fight;
It calls not each clansman, in hostile array,
From his home and his kindred to hasten away.

It calls not the mother in anguish to mourn
O'er the child of her hope, as if ne'er to return;
It calls not the widow, in forebodings of fear;
O'er her fatherless offspring to shed forth the tear.

For the banner that waves is a banner of peace,
And the tidings it bears are the tidings of grace;
In the stillness of Sabbath 'tis wafted abroad,
To assemble the clansmen to worship their God.

Oh! thus may each banner of discord and strife,
Yet send forth the tidings of gladness and life;
Thus calling on mankind with joyful accord,
To appear at his altar and worship the Lord.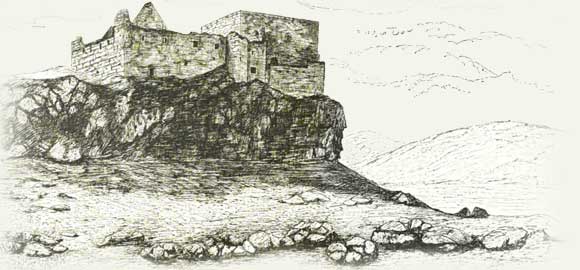 Read the article Heart of the Family
electricscotland.com/history/castles/duart.htm