Lachlan Hector Charles Maclean
28th Chief, 12th Baronet Morvern, CVO, DL, 24th of Duart, 8th Lord Maclean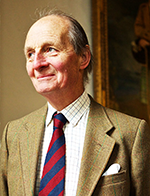 Click To Enlarge
The Honorable Sir Lachlan Maclean of Duart and Morvern, Bt, CVO, DL was born on the 25th of August in 1942, and ascended to the title of 28th Chief of the Clan Maclean, 12th Baronet of Duart and Morvern in 1990. Among a handful of Maclean Chiefs to witness the passing of a century, Sir Lachlan holds the distinction of being the only Maclean chief to preside over the passing of a millennium.
An Eaton1 grad, Sir Lachlan Maclean served with the Scots Guards, during which time, he took part in a special joint-training program with the US Army Rangers. Upon his 19738 retirement from military service, Sir Lachlan was successful in the corporate business world; he retired as an executive of the United Biscuit Company1 (the former owners of Keebler). For several years after his retirement, he entered private business as a restaurateur. Now Sir Lachlan enjoys running Duart Castle, his childhood home, and light farming at his winter home in Perthshire.
As the 28th hereditary chief of the Clan Maclean, he has worked to enhance the revival of world-wide clan kinship that the Internet Age has fostered. The work of both Sir Lachlan and his late wife, Lady Mary Maclean, was recognized when Duart castle was awarded the Caledonian MacBrayne Award for Excellence in Tourism in 2008. Their dedication made Duart Castle, the ancestral home of the Clan Maclean, accessible to the families it once protected.
Service

1962

1965

1969

1973

1993
Public Service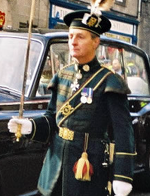 Click To Enlarge
Sir Lachlan Maclean's public service has been dominantly about preserving the clan and helping it flourish in the modern global society in which it now exists. In his public service, Sir Lachlan has served as the Deputy Lieutenant of Argyll and Bute. He also served as Adjutant and later Lieutenant in the Royal Company of Archers. In this role, he acted as the Silver Stick for Scotland (the ceremonial bodyguard to the British Monarch) during the state visit of Queen Elizabeth II to the opening of the Scottish Parliment.
Sir Lachlan also serves on the Board of Trustees of the Robertson Trust, an independent charitable Scottish trust who's priorietys are community-based care, health, education, art, and sport.
Upon the death of his father, Lord Maclean, on the 8th of February in 1990, the lands and title fell to Sir Lachlan.